Cards fall to Paola in final 56-44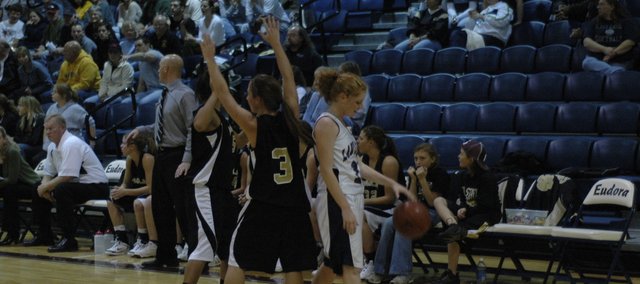 Two late Paola three-pointers effectively ended the Eudora girls basketball team's quest to win its home tournament Thursday night at Eudora.
Trailing by six with just over four minutes to go, Taelor Karr and Taylor Smith both hit three-pointers, and Paola pulled away late to claim a 56-44 over Eudora to win the Eudora Invitational Tournament championship.
Haley Epperson scored 15 for Eudora (3-1), Evan Folks added 10 and Bailey Scott scored seven. But their performances were bested by Paola senior Rachel Hanf's 23 points. Eudora will play Silver Lake Tuesday night at home. For the full story, read Thursday's Eudora News.
Score by quarters
1 2 3 4 F
Paola 14 12 11 19 56
Eudora 12 8 13 11 44
Eudora
Haley Epperson 15; Evan Folks 10; Bailey Scott 7; Rachel Pyle 6; Mariah Webb 6.
Paola
Taylor Smith 5; Kayla Offutt 5; Rachel Hanf 23; Megan Hayes 4; Taelor Karr 11; Ashlee Johnson 2; Rachel Schmidt 6