Cards look to soar at Eudora Tournament of Champions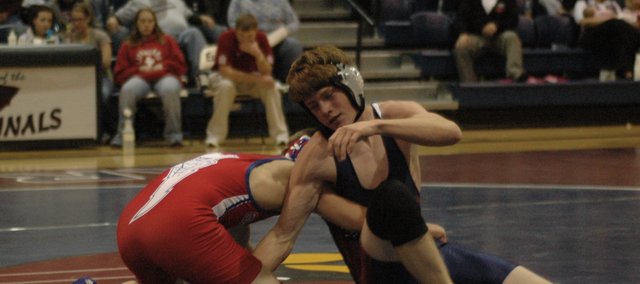 Twenty-four teams will hit the mats Friday and Saturday at the Eudora Tournament of Champions, and Eudora wrestling coach Bill DeWitt said he was looking forward to seeing how his team performed at a big tournament.
"We want to have a good hard focused week of practice and put on a good show for the Eudora tournament," DeWitt said. "I hope people come out and watch because we'll have a good show for them."
The Cardinals are coming off a win at home against traditional powerhouse Santa Fe Trail last week, and a first-place finish at the Tilton-Worley tournament last Saturday at Atchison. Eudora went 5-0 at the tournament, cruising past Pleasant Ridge, 55-21, Atchison, 60-15, Horton, 60-16, and Oskaloosa 69-2 to make it out of pool play and reach the finals. Eudora then finished off Hiawatha, 53-25, to claim first-place.
Eudora was open in the 103-pound category as Ryan Pennington was still out with a shoulder injury, but that mattered little in the overall scores.
"They didn't make too many mistakes," DeWitt said. "And even when they were outclassed they tried to stay in good positions to get into the third period to give us a chance, but they wrestled well."
Leading Eudora's attack and going undefeated on the day were Cody Salzman at 112 pounds, Alex Tacke at 125, Jackson Wiley at 130, Dalton Hladky at 135, Zac Chumbley at 152, Caleb Clayton-Molby at 189 and Boomer Mays at 215. Every Eudora wrestler tallied at least one win at the tournament, and seven Cardinals took first-place in their weight category.
"At Atchison someone told me the team was looking pretty good and I said that I am fortunate to have kids who are going to go out and work hard every time," DeWitt said. "Even if we weren't winning matches, I'd still be glad as a coach because I've got kids who just want to wrestle and work hard, and fortunately we're getting a little bit of both. We're getting some wins and I want to see how we do in a big tournament."
The only drawback for the Cardinals and DeWitt so far this season may be Eudora's success at duals. Not that DeWitt is unhappy with his team's record this year at duals, but it's the fact that dual competition is much different than at the state tournament.
"Unfortunately we don't have a dual state tournament, and we're actually a pretty good dual team at 6-0," DeWitt said. "It'll take some really good teams to beat us in a dual but tournaments are a little bit different story because the scoring is different. But we have really good depth, and I'm excited to see how we do in a big tournament like we'll have Friday."
DeWitt said he thought his team would be at full strength for Friday and Saturday, and added that he would know more about his team in a week.
"I will know a little bit more in terms of how we do in big tournaments, but I'll be pretty satisfied in terms of our work ethic regardless."
Next up for Eudora is the Emporia Winter Classic Dec. 20 at Emporia.
More like this story