Inside advantage
Epperson leads unbeaten Cards to Invitational title game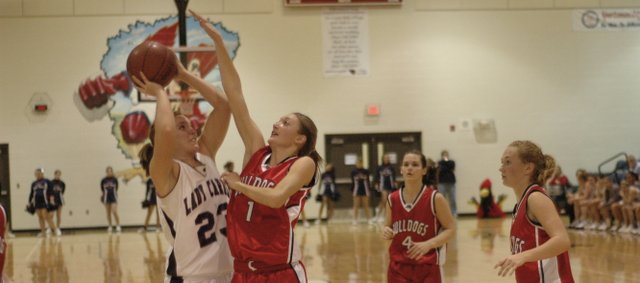 It didn't take long for the Eudora Cardinals to establish senior Haley Epperson as a force in the paint this year.
On its opening possession of the season Thursday against Anderson County, Eudora moved the ball around until it found Epperson in the lane. Epperson scored easily and added two more field goals and a free throw in the first quarter. Epperson scored eight of Eudora's nine points in the opening frame, and led Eudora to a 37-33 season opening victory.
Eudora coach Ryan Luke said getting Epperson the ball down low was something Eudora would continue to do this season.
"That's a lot of what we would like to do," Luke said. "I mean we want everybody to contribute but she's a pretty good player down inside, so we try to always get her the ball inside, and she makes things better for everybody outside, too."
As good as Epperson was inside, Anderson County had an answer outside in Elaine Tastove. Tastove scored 13 points and hit three three-pointers. Eudora led 17-14 at the half, but sloppy ball handling led to Anderson County fastbreaks, and the Bulldogs retook the lead at 24-23 at the end of three quarters.
Eudora trailed by four midway through the final period, but Eudora senior guard Rachel Pyle twice took the ball the length of the floor and drew fouls. Pyle hit four free throws to push Eudora back in front 30-28 late in the game.
"When we took pressure off them (Anderson County) we weren't as aggressive," Luke said. "And when we put our pressure back on them that kind of brought our guards back to life a little bit."
Late in the fourth quarter, Eudora led 30-28 but an Anderson County three-pointer put the Bulldogs back in front with just over three minutes to play. Eudora soon took the lead right back on an offensive rebound and field goal by Shea Lounsbury.
"The kids just really stepped up at the end of the game," Luke said.
Pyle and senior Mariah Webb both hit a pair of free throws in the final 30 seconds to seal the victory for Eudora.
"I thought Rachel Pyle stepped up at the end of the game," Luke said. "She's our game manager, and I thought she did a good job."
Luke said one area he would like to see the team improve on soon was turnovers.
"I think we're still trying to get used to each other and where everybody is supposed to be at," Luke said. "The zone they played was kind of tricky at times and they got in the passing lanes well. They were up in our faces and we didn't really know where to throw the ball at times."
Luke said the team didn't play as good as he would have liked, but added the team would improve.
Eudora took on K.C. Turner Monday night in the first round of the Eudora Invitational and cruised to a 53-5 win. Epperson again led the Cardinals, scoring 13 points. Bailey Scott scored 12 and Mariah Webb added 10. The Cardinals beat Tonganoxie, 55-37, to advance to the championship game against Paola Thursday night. Epperson scored 25 points and Scott had 14.
Luke said his team was excited to play in the title game again after finishing second or third in recent years.
"We want to get a win," he said.
After Paola, Eudora (3-0) will play Silver Lake Tuesday at home.