Three firefighters promoted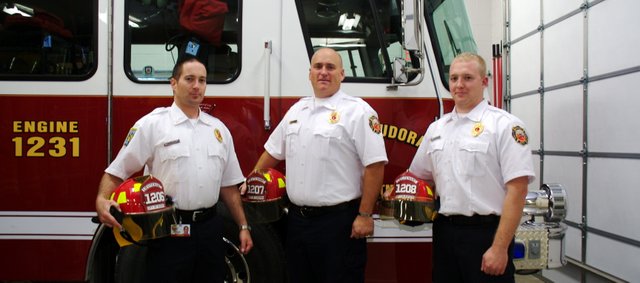 Six-year veteran of the Eudora Fire Department Damon Bradley said a small oven fire six years ago in his house led him to want to become a volunteer firefighter.
While he was in Kansas City, his wife called him and told him about the fire after it had been extinguished. She told him their children were safe and being kept warm in one of the fire trucks.
"Just the relief I could hear in my wife's voice — that was a gift," Bradley said. "It made me want to be able to give that gift to somebody else."
Bradley, Tim Reazin and Tyler Jackson, who all were promoted to the rank of lieutenant at the beginning of November, joined the Eudora Fire Department. Giving back was a common reason why all three men joined the department.
For Reazin, who has been with the department for about eight years, tragedy was part of the equation.
"My wife and I lost a son and everything kind of refocused, and I thought I'd give back," he said.
Jackson, who has been with the department for about two years, grew up around fire stations because his mom works for the Lawrence-Douglas County Fire and Medical Department. He said it's just always something he's wanted to do and, unlike Reazin and Bradley, he hopes to make a career of it.
Fire Chief Randy Ates said the move to promote the three was a result of splitting up the department, which consists of all volunteers except for Ates, into shifts and needing supervisors for each shift.
The men had to take leadership classes as well as pass a variety of tests and interview boards.
All three men have leadership experience, with Bradley and Jackson serving as emergency medical services shift supervisors, and Reazin most recently serving as a Federal Emergency Management Agency disaster generalist in Iowa this past summer.
The department still is looking for more volunteers, too.
While giving back is as good a reason as any to join the department, Bradley and Reazin said that career-minded individuals — like Jackson — as well as those who just want more excitement in their lives should join.
For more information on joining the Eudora Fire Department, call 542-3653.