Boys fall late to
K.C.

Harmon in title match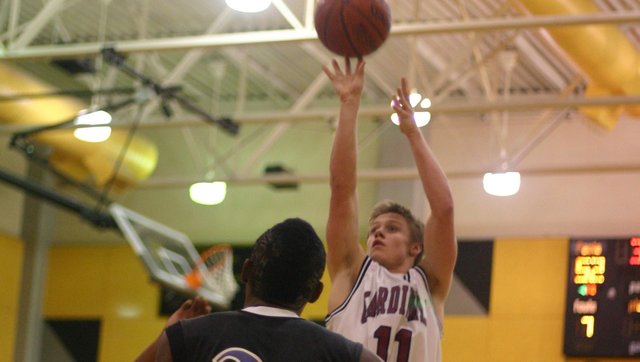 The Eudora boys basketball team hung close with K.C. Harmon for the first three quarters of Friday's Paola Invitational tournament championship game. But the final period belonged to Harmon.
Harmon, who advanced to the title match by defeating host team Paola last Thursday night, scored 24 points in the final frame to Eudora's 12 to seal a 76-59 Eudora loss.
"They're a really good team," Eudora coach Kyle Deterding said of 5A K.C. Harmon.
The Cardinals found themselves in a 20-12 hole at the end of the first period, but Eudora cut the lead to five at 31-26 to end the half. Eudora matched Harmon with 21 points in the third quarter and was still in the game, but two late three-pointers by Harmon put the game out of reach, and the Cardinals suffered their first loss of the season.
Justin Ballock led the Cardinals offensively, scoring 22 points in the game. Drew Noble chipped in eight points and 10 rebounds.
Despite the loss, Deterding said he wasn't too disappointed the team didn't come back with the tourney title.
"We played pretty tough," he said. "We did a lot of good things out there."
The Cardinals had two players make the all-tournament team in Ballock, a junior, and senior Michael Bricker.
At home Tuesday night against Silver Lake, Ballock scored 19 points to lead Eudora to an easy 52-44 win. Eudora (4-1) never trailed in the game and built a 16-2 first quarter lead and led 29-8 at the half.
"First half we did some nice things," Deterding said. "We spread the ball around and made them work a little bit."
Brian Katzfey scored nine points, Noble scored eight and Bricker scored seven to lead the Cardinals.
"We came in thinking they were a pretty good team, so we were ready to get after it and we did," Bricker said.
Eudora had a commanding 18-point lead to start the final period but the Eagles outscored the Cardinals 25-12 in the final frame. Eudora, however, regrouped late to hold on for the win.
"We didn't handle it very well," Deterding said of Eudora's late play. "It's good to be in that situation. At least we were up enough to be able to hold on but we really handled that poorly. I need to do a better job in practice of getting us to be able to finish games like that."
The Cardinals will play Prairie View Friday at home in their last game before break.
"We're trying to get better every day in practice," Deterding said. "And there's a lot of stuff that we can get better on, so that's a good thing.