EHS

receives national recognition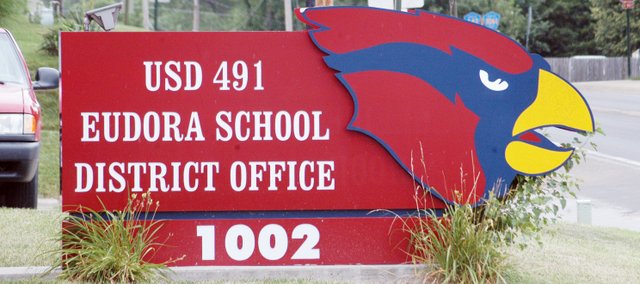 Eudora High School received national recognition last week when the U.S. News and World Report chose it as one of the top high schools in the country.
A total of 21,000 schools were ranked gold, silver or bronze. EHS received a bronze and was one of 34 schools in the state to make the list. It was the only school in Douglas County to be ranked.
"I thought it was pretty impressive that we got a bronze," EHS senior Mariah Webb said. "It makes me appreciate my school a little bit more. I was very surprised that this little school got such a high ranking."
The award was the silver lining to the cloudy forecast the district had received during the week as a result of the economy's effect on the district's bond projects.
While recognition was given to the high school, Superintendent Don Grosdidier said all schools in the district should be praised.
"I think the achievement speaks about the high school, but it also speaks to the district as a whole. It's a reflection of the students' first-grade teacher as well as their senior math teacher," he said.
Of the 34 Kansas schools ranked, only two received silver ranking and none received gold. Bronze is the highest honor a school that doesn't offer advanced placement classes can receive.
While AP classes aren't available at EHS, the district allows students to take up to four classes at Johnson County Community College. EHS Principal Dale Sample said the choice of college classes over AP classes was "a no-brainer" because students have to pay for the AP tests, and if they're paying they might as well earn college credit for it.
Sophomore Class President Anthony Mersmann said the recognition came as a surprise and it made all the hard work worth it.
"Mr. Hinman told us," Mersmann said. "I was pretty surprised and I had never heard anything about it (the award) before."
Grosdidier said it was important to not lose sight of the fact students and their families also made the ranking possible.
"The students deserve a lot of credit, too, from the standpoint that they work hard and they're motivated," Grosdidier said. "We want the best for our kids and want to push them to be the best. The fact that the kids buy into that reflects well upon them."
For more information on the report, go to www.usnews.com/sections/education/high-schools.
More like this story