Late three-pointers sink Cardinals at home
Paola upends Eudora to take Invitational Tournament title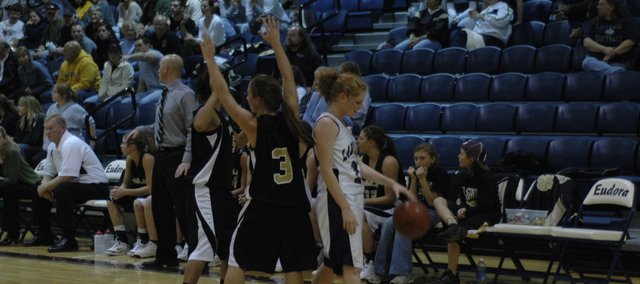 Eudora played fast but Paola played faster and better in the second half. That's the gist of the Cardinals' 56-44 loss in the Eudora Invitational tournament championship game last Thursday at Eudora.
"I thought we made some tough fouls and we didn't play as smart as we wanted to on some possessions," Eudora coach Ryan Luke said. "I know they were playing really aggressively and our kids were really playing hard and we got out of position on defense and gave up some free throws and then we gave them a couple threes at the end."
A back-and-forth game throughout, the Cardinals trailed by five with six minutes to go in the final period when Haley Epperson scored inside. Evan Folks then hit a shot for Eudora and Paola's lead was down to three at 43-40. Eudora had momentum, but Paola's Rachel Hanf scored and was fouled on the play. She hit the free throw, and Paola had a six-point lead with 5:42 to play.
"That's what a good team does," Luke said. "They made shots. We had some nice looks tonight and they haven't really fallen for us all year so far."
The Cardinals misfired on their next possession, and Paola's Taelor Karr dribbled in from the left wing and took a step back behind the three-point line. Her shot went in and Paola's lead was boosted to nine points. On the Panther's next possession, Taylor Smith hit a three from the right wing with three minutes to go to take control of the game.
"They're a really good team," Luke said. "Karr and Hanf are Division I guards, and the rest of the team complements them well. They're one of the better teams in the state.
"Those two players are two of the best players in our class, so we can't be disappointed. We're disappointed we lost the game but that's one of the better teams in the state. And it just goes to show that we can compete with them, so we're excited about that."
Epperson scored Eudora's first eight points of the game and led the Cardinals with 15 points. Folks scored 10, Bailey Scott added seven and Rachel Pyle and Mariah Webb both scored six.
With the loss, the Cardinals had once again fallen just short of winning their home tournament. Eudora had finished second or third in previous years. But Luke said he wasn't disappointed with finishing second and losing to a quality team.
"If we would have played poorly or didn't play with effort I would be more disappointed about that than anything else," he said. "But I thought we played really hard and the kids are awesome. You just can't fault them for what they do. They listen and work hard and they played the best game they could play and we just came up a little short tonight. That happens sometimes."
At home against Silver Lake Tuesday night, Scott scored 15 points and hit four three-pointers to lead Eudora to a 41-28 win. Scott hit two of her threes in the first quarter, and Shea Lounsbury controlled the glass early with her hustle.
"Shea Lounsbury is a hustler and she's going to those boards," Luke said.
The Cardinals (4-1) extended their lead to 33-18 at the end of the third quarter. Silver Lake crawled back late, but Pyle and Folks combined to go 5-for-6 from the free-throw line to preserve the win.
Epperson scored just six in the game, but Scott's performance from behind the arc made up for it.
"Bailey is a big fire for us and she can make those threes. She's very capable of it," Pyle said. "If we can get her doing that and then have an inside game, too, there's no limit as to where we can go."
Eudora will play Prairie View Friday night at home in its last game before Christmas break.