Linwood family helps wounded vets heal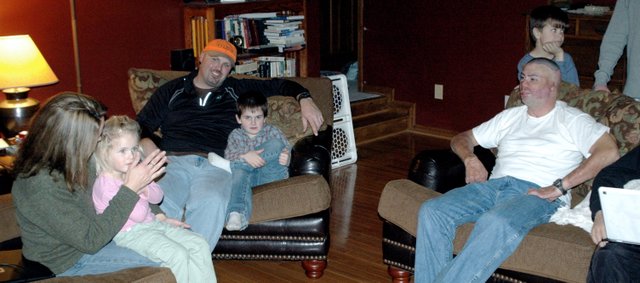 It might be thought that a highly decorated Army staff sergeant who served in two tours in Iraq would not need a boost in confidence, but a recent hunting trip in Linwood did exactly that for U.S. Army Staff Sergeant Shilo Harris.
After needing his wife's support for about seven months before he was able to feed himself, the simple act of hunting has boosted Harris' morale.
"I set up a blind last night for the first time by myself," he said. "And I went out again this evening and that felt really good."
Despite enduring multiple surgeries as a result of third-degree burns to his face, arms and upper left leg, Harris hasn't lost his sense of humor.
"I shaved for you, and I don't shave for many people," he said.
Harris' positive attitude has been integral to his healing process, as has his recent stay at the Linwood home of Stephen and Kim Johnson.
Working in concert with Hunt for Heroes, an El Campo, Texas-based organization that provides hunting and outdoor related activities to men and women in the U.S. Armed Forces who have been wounded on the field of battle, the Johnsons hosted Harris and U.S. Army Staff Sergeant Bradley Gruetzner for six days.
"I didn't know if I was going to be able to do something like this again, but it's the small things that are a real confidence booster," Harris said.
After the recent death of his father, who was a veteran, Stephen Johnson had been searching for a way to give something back to troops who had returned from fighting in the Middle East. He also wanted to provide the positive homecoming that some who served in Vietnam did not receive.
Though Harris, 33, of McCamey, Texas, has scarring over his arms and face as a result of various skin grafts and other surgeries, one is drawn to his emotive eyes as he recounts his experiences.
He joined the army in 2002 and was injured Feb. 19, 2007, during his second tour in Iraq. He was the third in a four-vehicle convoy that was removing improvised explosive devices in southern Baghdad.
Harris' humvee hit an IED after the convoy received incorrect information from Iraqis about the location of explosives.
"The first thing I thought was, 'they better give me a day off for this,'" Harris joked.
He wasn't sure how badly he was injured after the incident, but a look from one of the soldiers in his convoy let him know he was in bad shape.
"There was a buddy of mine standing over me and the fear was in his eyes as he was looking at me," Harris said.
Harris was transported to Germany and then put into a coma for 48 days because of the pain doctors anticipated he would experience in recovering from the burns. He wasn't told until after he woke up that the blast killed the other three men in his vehicle.
He then was taken to Brooke Army Medical Center in San Antonio where he has had numerous surgeries to reconstruct his face, and he soon will get prosthetic ears.
At the time of this interview, the hunting had been unproductive. Harris said they saw a huge buck but the site on the rifle was off so they returned home empty handed.
However, it has been the time with the Johnson family — which with three boys and one girl mirrors Harris' family — that has been the most important part of the trip.
"I take family really seriously," Harris said. "You have to reinvent healing after such a traumatic event, and not just you but your entire family. When people tell you or your family thank you, you should see my kids light up. It puts a smile on their face and lets them know that this wasn't done in vain.
"If I was to go home empty handed with no animal, I would still be happy."
And while the Johnson's intention was to be on the giving end of this trip, they also have received.
"It's been very rewarding, but it makes you realize that you're not doing nearly enough for these people that come home, especially the wounded ones," Kim said.
Stephen said he has made lifelong friends in Harris and Gruetzner.
"It's been everything I thought it was going to be and more," he said. "For us, it's an honor just to have them here."
Harris also hopes other soldiers will get to experience the week he had with the Johnsons.
"There are soldiers that are dealing with this alone," he said. "It gives them peace of mind knowing that they aren't going through this alone because even though they aren't in combat, they're still fighting."
For more information on hosting a veteran on a hunting or fishing trip, go to
www.huntsforheroes.com.