Medicalodges leadership changes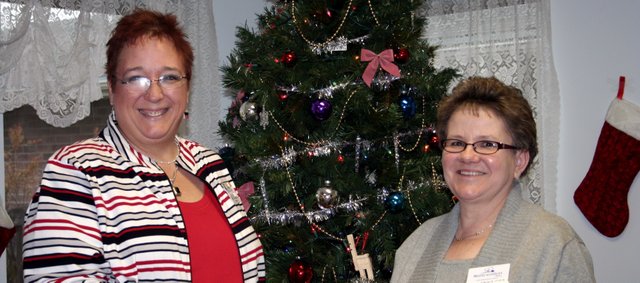 Leadership at Medicalodges, Eudora has changed, but the ideals behind the culture change that began earlier this year still are in place.
As of Dec. 1, facility administrator Tami Klinedinst took over marketing and new program development at the corporate level for Coffeyville-based Medicalodges. The new administrator for the assisted living facility is Donna Fox.
Fox spent about 17 years working in long-term care facilities, beginning at Meadlowlark Hills in Manhattan, where she worked in accounts receivable and then medical records.
After 11 years in medical records, she returned to college and then got her administrator's license.
"The reason I wanted to get my administrator's license is because from a medical records perspective, I had no control and their wasn't anything I could do to improve the quality of life for the residents," Fox said.
She moved six years ago to the Kansas City area with her husband after he had to relocate for his job.
"Since we'd been married for 30 years, I figured I'd go with him," Fox joked. "I didn't want to have to train somebody else."
She had previously been the administrator at the Wellsville Retirement Community.
While she doesn't have plans to change the facility, she has plans for progression.
"There is so much potential here," Fox said. "They've started so many things and so all we can do is continue to grow and make life better for the residents."
She plans to pick up where Klinedinst left and continue to de-institutionalize the facility by further personalizing resident care.
One immediate element of the facility she would like to see decrease is the use of overhead paging.
"Do you have an overhead page in your house," she said. "How hospital-like is that? We want to get away from that mindset."
Klinedinst had been administrator of the facility since Jan. 4, and brought about the culture change in the facility. She also was responsible for beginning several events, such as a military veterans street dance and a motorcycle show benefit for breast cancer research that brought the community into Medicalodges.
Though she'll be working at a corporate level, her office will be in Eudora for now.
"I'm still here if Donna has questions," Klinedinst said. "The blessing about this is that with the history I've established here with the staff, the residents and their families, she can ask me questions about them."
Fox also hopes to do away with the public's perception that people who live at the facility go there to die. It's a perception she understands, as she resisted taking her grandfather to such a facility about 28 years ago.
"My concept of a nursing home was similar to lots of people's, but it's not a place where people go to die. It's a place where they come to live their lives," Fox said.