Medicalodges staff get 'big pat on the back'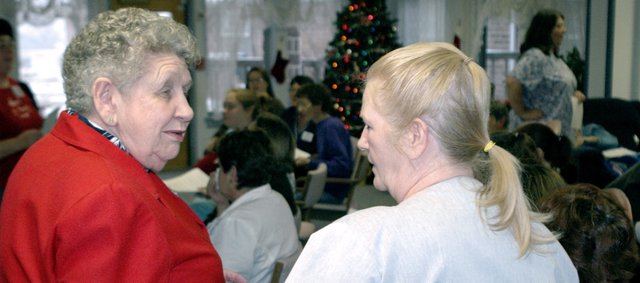 The staff at Medicalodges, Eudora enacted a culture change in the facility about a year ago, personalizing care for residents.
The intention of the change was to create bonds between residents, their families and the staff.
On Dec. 9, the fruits of such bonds were on display when the family of former resident Albert Hall gave staff members money from a memorial fund.
"The care he received meant a lot to him," said Treavha Hall, Albert's wife. "So, we all got together and decided to do this for him."
Albert passed away in late December 2007.
"It was hard to bring him here, but he did have good care," said Treavha, as she received tearful hugs from staff members.
The $710 gift will be split between about 40 eligible employees. And it was not the first time the Halls had given staff members thank-you gifts, as former facility administrator Tami Klinedinst recalled how Treavha used to bring food them.
Though the gift was not extravagant, it was the principle behind the creation of the fund that the staff appreciated.
"It's like a big pat on the back that says 'you guys are doing a good job, and we appreciate what you're doing,'" Director of Nursing Delores Stiffler said.
Stiffler said such occurrences were not common, but then neither was the bond Treavha and the staff shared.