Taking on the boys
Female wrestler enjoys physical aspects of sport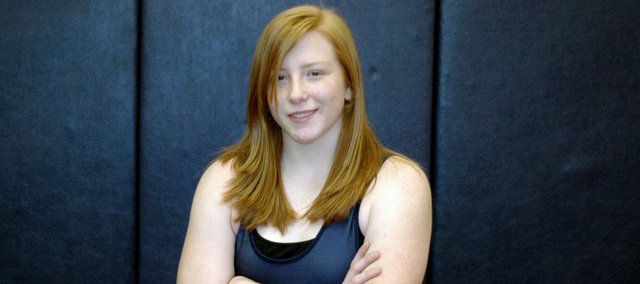 Seeing Jessica Bowman tussle with the boys has become a common occurrence for those who follow the Eudora wrestling team.
Bowman has been wrestling for six years and said more traditional team sports such as volleyball and basketball just weren't for her.
"I like to do things on my own," Bowman said. "In wrestling you can't blame anybody but yourself and you don't rely on anybody else."
Bowman said she had always preferred the wrestling mat to the court after she watched her older sister wrestle at a practice. Bowman began wrestling boys when she was in the eighth-grade and enjoys the workout.
"I like the action," she said. "I like the physical aspects of it."
Battling boys
Bowman, a junior, wrestles for the Cardinals in the 135-pound weight class. She said going up against boys didn't concern her too much after the match started.
"Sometimes if they look bigger than me I get intimidated," Bowman said. "But after I get out there I realize I'm just as strong as they are."
But in practice she tumbles with boys who are often bigger and stronger and weigh more than she does. When she faces a bigger opponent, she has a strategy that has worked well so far.
"I'm mostly thinking of how to move them to get what I want," she said. "I'm kind of like a machine. I just go."
Bowman said she could combat potential differences in size and strength of her opponents by using her favorite move, the castanet.
Sophomore teammate Boomer Mays, who competes in the 215-pound weight class, has seen Bowman wrestle against big and small opponents for the past few years. He said whenever Bowman was on the mat it was never an easy match.
"She pushes everybody," Mays said. "She won't hold back."
Coaching girls
Eudora wrestling coach Bill DeWitt said there had been a few girls go through the wrestling program but none quite like Jessica.
"Coaching her is absolutely no different than coaching any of the boys," DeWitt said. "I've had some girls here and there, and I think when some of the girls in the past wrestled it was more of a curiosity standpoint, whereas Jessica doesn't wrestle because she's a girl and she wants to see if she can do it, Jessica wrestles because she absolutely loves the sport."
In a testament of how much Bowman loves to wrestle, DeWitt recalled that Bowman recently had an eye infection and there was some speculation whether or not she would be able to wrestle at a recent weekend tournament.
But Bowman didn't want to miss a match because of a bad eye, so she wore an eye patch to school that week for protection and wrestled that weekend.
"A kid like that, boy or girl, I'll coach them any time of the day," DeWitt said.
Matching success
In Eudora's first meet of the season at home against Santa Fe Trail, Bowman easily defeated her boy counterpart. Bowman has been competing on the J.V. squad this year and said she hoped to do some damage soon in varsity competition.
"My biggest goal is to wrestle varsity for a little bit because that's not common for girls to do that and I know it's a big reach to make a goal to place at state for a girl," Bowman said.
One problem Bowman has in competing on the varsity squad is that teammate Dalton Hladky wrestles in the same weight class as Bowman and he is ahead of her on the depth chart. Hladky finished in eighth-place overall at the Eudora Tournament of Champions last weekend.
"She works her tail off all week long and usually ends up going to J.V. matches," DeWitt said. "But as a coach that's a good problem to have because we have depth. Her only disadvantage is that she herself is a junior and she's wrestling other juniors and seniors in high school.
"So from a physical standpoint she's at a little bit of a disadvantage, but technique wise she's sensational. She wrestles well every time she goes out there. She's a competitor."
DeWitt said Bowman had some of the best technique on Eudora's team and that she had improved each season.
"She's done some work in the offseason and she's progressed, maybe a little bit through me but a good majority of it was through her by putting in the extra work," De Witt said.
And DeWitt added that Bowman had the full respect of her teammates.
"She gets in there and anybody in the room will drill with her," DeWitt said. "And when we go live and get in groups, she'll go in there and buck heads with anybody. I don't think the guys see her as a girl. They see her as a teammate."