Cardinal wrestlers take 8th at Emporia Winter Classic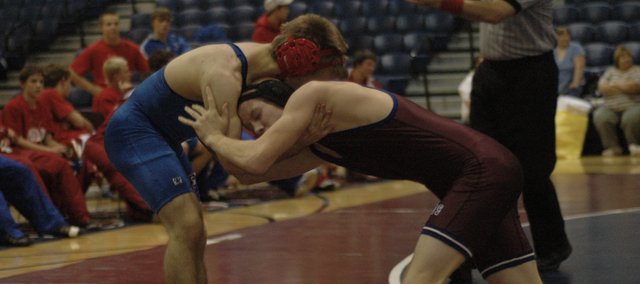 Off the heels of Eudora's grueling two-day, 24-team Tournament of Champions, the Cardinals battled in a 17-team tournament at the Emporia Winter Classic Saturday at Emporia.
Eudora finished the tournament in eighth-place overall, and Boomer Mays finished in first-place in the 215-pound weight class.
"It was a good meet for us right before break," Eudora coach Bill DeWitt said. "We did a lot of good things."
In all, Eudora had five wrestlers place in the top six. Sophomore Caleb Clayton-Molby finished fifth at 189, and senior Jackson Wiley placed sixth at 125.
"I thought he had a really good tournament," DeWitt said about Wiley's performance.
Junior Dalton Hladky took fourth at 135 and senior Ethan Becker took sixth at 160. Becker was unable to wrestle his last match because he was already at the five-match limit for the day, so Becker had to forfeit the match and thus took home sixth.
Eudora was open in the 103-pound weight class and 171. Ryan Pennington, who would be Eudora's wrestler at 103, has been out all season with a shoulder injury. Becker, who had previously wrestled at 171, dropped down to 160 for Emporia. DeWitt said he was unsure if Eudora would fill those open weights this season.
"Whether or not we get those filled I don't know," DeWitt said. "Maybe. There might be a little more moving around after break."
DeWitt said the Cardinals wouldn't practice this week but said the team would get in about eight or nine practices before their next match. He also added that a few days off would be beneficial to the kids.
"I think taking a break is good," he said. "Hopefully when we're out of the wrestling room a little bit, when we get back we miss it. But a break is nice.
"We've been fortunate to have no major injuries. But after having a big grind like our tournament and a tough tournament at Emporia, I'm sure some of those kids have some soreness here and there. But getting away a little bit and spending some time with family will be a nice little break for them."
Eudora's first match after break is Jan. 8 at Wellsville. Eudora will face league foe Gardner in a dual.
"They've got a really good team this year," DeWitt said of Gardner. "That Thursday when we come back hopefully we haven't lost too much because I like where we're at now and I think we took some really good steps forward from last week to this week."