Flying high
Cards use high post offense to net fifth win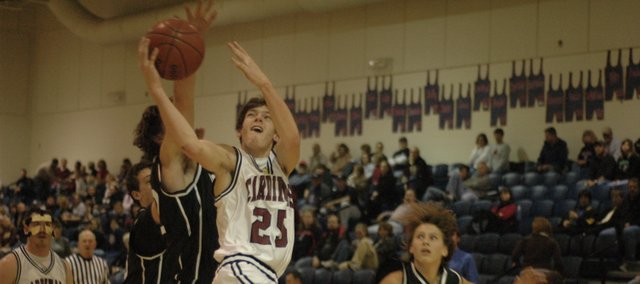 It might be fitting that Eudora had much success running its offense through the high post against Prairie View Friday night at Eudora.
Throughout the game, the Cardinals moved the ball around the perimeter and then passed the ball to senior forward Cody Carlson at the high post. Carlson then either stuck an open jump shot or passed it down low to Michael Bricker or Drew Noble for easy baskets in Eudora's 52-34 win.
"Our bigs just did a nice job," Eudora coach Kyle Deterding said. "We got the ball to the high post and they were looking for their teammates and our guards looked for our bigs, which helps because our bigs do a decent job when we get them the ball. We just have to get them the ball a little more."
Carlson scored 13 and Noble threw in 12 to lead Eudora. Carlson was saddled with foul trouble much of the game and didn't play as long as Deterding would have liked.
But Carlson, who wore a protective mask on his face because of a broken nose, battled hard below the basket, when he wasn't in the high post.
"When he was in there he did a nice job," Deterding said of Carlson. "He went in there and worked early and hit a couple jumpers and he was active."
Bricker, who was the recipient of a few entry passes from Carlson, said a defense having to stretch out to play a big man above the foul line made his own job down low easier.
"We got Cody up there to work the high post and he's a pretty good passer," Bricker said. "That's worked out pretty good for us getting those zip passes through there in breaking the zone."
The Cardinals (5-1) saw they could have an advantage in the lane on film, which Eudora also had last year against Prairie View.
"Last year our inside game was really good against them and they had the same big guys coming back this year," said Justin Ballock, who scored 10 points in the game. "And Bricker has been coming up strong, so we got Bricker and Cody and Drew early and we had success there, so we kept it up."
With the win, Eudora is already halfway to its win total from last year. The Cardinals went 10-11 last year but look to be hitting their stride already this season. Even with his team on a roll, Deterding said the team would enjoy its Christmas break.
"It's nice," Deterding said. "Otherwise the season gets to be a grind because once we get back in January it's a grind for two months where you're hitting it pretty hard."
Eudora's next game after Christmas break will be Jan. 9 at Baldwin.
More like this story