Home stretch
Cardinals defend home mat, prepare for Frontier League tournament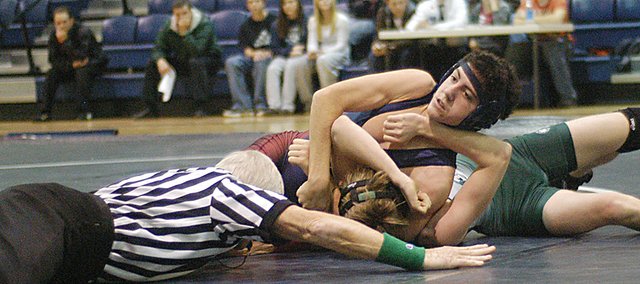 Domination was the recurring theme Thursday night, when the Eudora wrestling team blew through Anderson County and De Soto to gain two dual victories on its version of senior night, "Raise the Roof."
The Cardinals whipped Anderson County 52-22, then beat De Soto, 57-12.
Senior Evan Meyers was most dominant in the Anderson County dual, pinning his opponent in 14 seconds while in the 215 pounds class, a step up from the 189 he's wrestled throughout the year.
Eudora coach Bill DeWitt plans to use Meyers at 189 in the league tournament and regionals, but bumped him up a class to allow freshman Boomer Mays to gain varsity experience at 189.
"(Assistant coach Jason) Tharp told me to go for the fastest pin record, which is seven seconds," Meyers said when asked if he expected to dominate the match. "I wanted to get him in six (seconds), but I'm too slow."
Meyers sat out of the De Soto dual. He and several of the team's other top wrestlers again will be relegated to the cheering section Thursday night at home in a single dual against Paola. DeWitt plans to give some of his kids some time off in preparation for the Frontier League Tournament Saturday in De Soto.
"Our league is real tough. Every single one (of the eight teams) is pretty good," DeWitt said. "You don't want to get anybody hurt right before regionals, but our goal is obviously to win a league championship."
Along with Meyers, senior Travis Clarke will get the night off Thursday, as will others who haven't missed tournaments throughout the year.
Two seniors, Jake Love and Chase Rust, have missed tournaments, so will use the Paola dual as a final tune-up before league and regional tournaments.
DeWitt said the team will need to have strong showing from more than just its top wrestlers if it's to make a run at the Frontier League title. Points gained in the consolation bracket could make the difference, he said.
"As we say, the best wrestler gets first, the toughest wrestler gets third," DeWitt said. "Some kids are going to have to battle back through the backside of the bracket at regionals to go to state. If there's an upset or something happens in the early rounds, you have to be tough enough to come back and get third or fourth and go on to the next phase."
The Cardinals looked tuned up and ready for league and regional meets Thursday, with every senior seeing action at the varsity level. Senior Jim Thoenes, a first-year wrestler, was the feel-good story of the night, wrestling for the first time at the varsity level and winning 13-3 against his De Soto opponent.
All but one of the seven seniors claimed victories.
Erik Ahlen was down 5-2 in the first period against a De Soto wrestler when he was caught and pinned.
"The seniors had a great night, which was good for them," DeWitt said. "They wrestled with a lot of pride and I think they felt good about it."
DeWitt hopes his team will carry the same mental approach as it did against Anderson County and De Soto into the league tournament.
One thing that helps is that Eudora has taken part in some tough tournaments this year facing Class 5A and 6A schools.
That really showed Thursday and DeWitt hopes that will carry over into the league, regional and state tournaments.
"Anderson County and De Soto are good teams," DeWitt said, "but I really don't think they are the same caliber of teams that we faced in central Kansas. That's why we go to those tough tournaments."
Meyers' Thursday weight class, 215, will now be filled by freshman Caleb Clayton-Molby, which only leaves the Cardinals open at heavyweight and could remedy the problem that has haunted them all season long at those larger tournaments - open weights.
"We have nothing to lose so we'll see what he can do," DeWitt said. "(Clayton-Molby) may go 0-2 and we'll be proud of him, or he could go 3-0 and surprise everybody in the league."
The dual against Paola is Thursday at 5 p.m. at Eudora High School. The league tournament will follow, beginning at 9 a.m. Saturday at De Soto High School.
More like this story