Mateo takes Chamber helm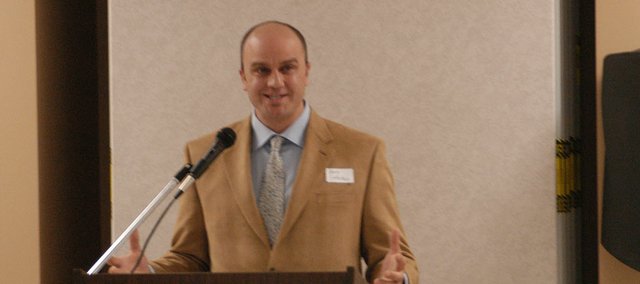 Doug Mateo has had his Mateo Chiropractic, business in Eudora for a little more than a year, but it didn't take long for him to see that having a business in Eudora is not always easy.
Mateo Chiropractic, which now is located at 1402 Church St., Suite C, began in downtown Eudora. But in the short time that it was there, Mateo saw a majority of the businesses fold.
"It was amazing," he said. "I saw three or four businesses shut down, and I was only there for about nine to 10 months. It's sad to see."
Keeping businesses alive and healthy by promoting what they can offer the community is one of Mateo's main goals in his new capacity as Eudora Chamber of Commerce President. He is taking over for John Fiore of Sunflower Broadband, who still will be active with the chamber as past president.
Mateo became active with the chamber soon after starting his practice in Eudora in October 2006.
"It gives you a chance to get a hold of other business people in town and express what you do in business for the community," he said. "One thing that I realized when I first got involved with the chamber was that it was a small group and that the outreach to the community was not significant."
He plans to follow the example of Fiore and continue to promote the chamber to local businesses.
"John did a fantastic job of getting businesses involved and recruiting them again to come back and let them know the chamber is going to start doing something different than what it did in the past," Mateo said. "That's definitely part of the philosophy that I want to keep going - I want to keep recruiting businesses, but then expose the community to what each business has to offer."
Fiore hopes to be able to spend some more time with local businesses than he had in the past.
"My role in the chamber is going to shift from making the day-to-day decisions to being more of a person who goes out and contacts new businesses that move into town and prospective businesses that maybe have an interest in moving to Eudora, as well as existing businesses in town that have an interest in joining the chamber but nobody has ever contacted them," Fiore said.
He said Mateo and President-elect Amy Durkin will help further prosper the chamber.
"Doug is a very organized person and a respected community businessman," he said. "The Chamber is in good hands with Doug and the president-elect Amy Durkin, another respected businessperson in Eudora. Plus, we've got the strength of our board, which is a good group of people capable of making some good decisions with some forethought."
Mateo also will follow the example of the chamber of commerce in Putnam County, N.Y., where he previously lived. He said the Putnam chamber held many activities and campaigned for supporting local businesses.
At the chamber's annual dinner, he spoke of new activities he would like to take place that would not only be fun for the community, but would raise awareness of the different types of businesses in Eudora.
Among the activities he would like to see are a business fair in the C & S parking lot where businesses could set up booths to further acquaint themselves with the citizens of Eudora.
Mateo also would like to provide more entertainment throughout Eudora so that citizens don't feel the need to go to Lawrence or Kansas City for something fun to do.
He hope to put on a soap box derby on Main Street with businesses and community members sponsoring cars and awarding prizes and he also would like to show movies at CPA Park.
"My main goal is to keep it local," Mateo said, "I think the biggest hurdle is that everybody goes out of town."