Pharmacist named Chamber Person of the Year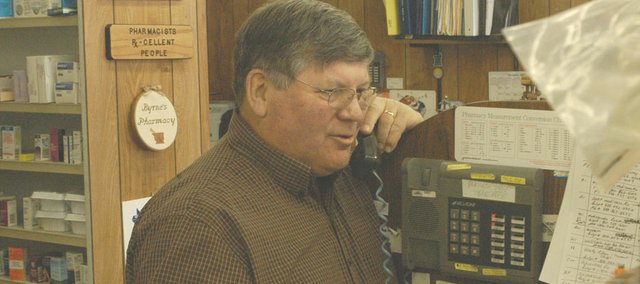 When Stan Byrne, the owner of Byrne's Pharmacy, is asked what Eudora means to him, he defers to Alf Oleson, the man from whom he bought the store.
"His philosophy was, and my philosophy still is, 'It's great to live in the same community as you,' and that's the whole thing," he said. "It's a community, you know everybody and you treat them how you'd like to be treated and that's how it's always been. You work on all kinds of committees with these people and they're not customers, they're friends and neighbors."
Byrne's philosophy and service to the community caused the Eudora Chamber of Commerce to name him its person of the year. It's the second time he's been the recipient of the award.
"It's gratifying, but it's humbling," Byrne said. "I had no idea that this was even going to happen. In fact, when they first told me about it I thought it was a joke; I really thought they were kidding me but enough of them said it so I believed them."
During the 37 years that Byrne has lived in Eudora, he has served on the school board, the public health board, the planning commission, the Mutual Savings Associate board for 30 years and the Eudora Nursing Center board for 35 years, and has been an active member of Eudora Lions Club.
Chamber 2007 President John Fiore said Byrne's service on several committees was a big deciding factor in getting the award.
"Stan's served this community with his pharmacy for over 35 years and having a high quality pharmacy in town really is an important thing for a city the size of Eudora," Fiore said. "He's done such a great job serving the community quietly in the background and the fact that he is transitioning out of that business brought him to everyone's mind this year."
Since moving to Eudora in 1971, Byrne, who will turn 65 this month, has seen a lot of changes in the town where he raised his three children with his wife, Kay.
"When I moved here, 2,000 people were struggling," he said. "Every wind storm, your electricity would go off, and they've upgraded the infrastructure, now. Our growth has caused us to do that, of course, but we're moving in the right direction. It hurts, but we've got to do it."
He especially is looking forward to the construction of the Lawrence Memorial Hospital campus that will be built just off of Kansas Highway 10 and Church Street.
"The hospital is near and dear to my heart for obvious reasons, and I like to see that get going," Byrne said.
Byrne currently is in the process of selling his pharmacy to Deborah Barr. He started by selling 50 percent of it to her and will sell off the remaining 50 percent over the next 10 years. However, he still continues to work in the pharmacy.
When asked about when he'll quit, he takes a moment before answering, seemingly reflecting on a life spent serving the people of Eudora.
"That's a good question," he said. "My wife keeps asking me the same thing. I'm trying to take more and more time off now. You do something for so long, you just can't flick the switch and walk away. I'd love to just walk down to the lake, prop my feet up and throw a fishing pole in the water, but that's not my style."
Though he doesn't know when he'll fully retire, he knows what he'll do with all of his newly acquired spare time.
"I'd like to get out and play more golf," Byrne said. "I've always used the excuse that I'm so bad because I don't get to play enough, so I don't know what I'll do if I have enough time to play. I don't know what my excuse will be after that."