City contemplates discounted memberships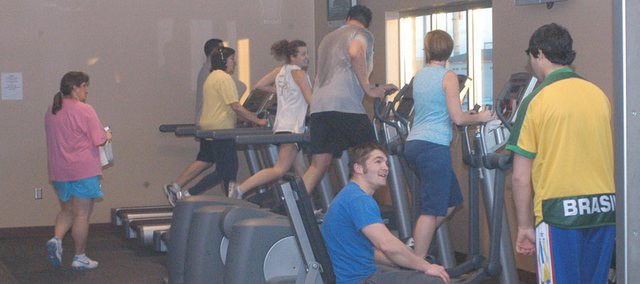 It seemed like an innocuous question: Should the city provide an employee discount for the Wellness Center at the Eudora Community Center?
But what began as a seemingly simple measure needing approval from the city council has turned into a multi-leveled issue that now has been roundly discussed and then tabled for three-straight meetings.
Initially, there was a two-fold reason behind the measure.
"The point of the beginning to discuss this is that volunteer firefighters had requested it and our insurance rates have been sky-rocketing and one of the ways to control that is to get your employees and their families healthier," Eudora City Administrator Cheryl Beatty said.
The one thing on which the council agreed, contingent upon several other factors, was that the $250 single memberships would be free and the $350 family would be discounted by 20 percent.
Beatty then informed the council that because the membership would not be a direct expense, employees would be taxed on the amount of a single membership. The discussion became splintered almost immediately after that decision.
The biggest advocate for the measure is Bill Whitten, who also is a firefighter in Lenexa.
"It seems like the raises aren't that great and stuff has been taken away from them (the employees) in the past, so this is something we could give to them," Whitten said. "It's going to promote healthiness, which you may not see a return on your dollar right away, but down road it's going to lower insurance premiums."
Another aspect of the measure is whether the discount should be given to just full-time employees, which would eliminate the firefighters who requested the discount in the first place.
Eudora currently employs 39 full-time employees, as well as three part-time employees in the police department and the 21 volunteer firefighters.
"It's their job to come in and be in shape, so shouldn't we give them as many opportunities to do that?" Whitten asked. "And with the volunteer firemen, people might say that they're paid per call. But it's still on a volunteer basis and I think we ought to do everything we can to bend over backwards and help them out."
The issue became further convoluted when EMS members were brought up. Though the Eudora Fire Department manages EMS members, the service is funded by Douglas County.
"They're not our employees so I can't include them," Beatty said.
Fire Department Chief Randy Ates can see both sides of the issue, but would like to return the generosity of both volunteer firefighters and EMS members.
"I understand that (not including EMS members) from one aspect, but another aspect is whether they belong to the county or not, they're still serving the residents of Eudora, and I think Eudora should offer this to them as well," Ates said.
And although Police Chief Greg Dahlem said it would be difficult for officers to find time to make it to the gym, he still wanted them to have the opportunity.
Further complicating discussion are possible worker's compensation issues if workouts were mandatory for public safety employees, such as police officers and firefighters, and one was injured at the gym.
Parks and Recreation Director Tammy Hodges said the main concern is finding time when the wellness center could accommodate city employees. Hodges told the council that early mornings and early evening were especially busy times, as she has had to post a sign-up board for people who want to use the treadmill or elliptical machine.
Some patrons even have become hostile with each other or with community center staff members when forced to wait, Hodges said.
"I think it's great that we're offering the free benefit, but my concern is somebody coming in here paying $350 a year for a family membership isn't getting enough time in the fitness room when somebody else is getting it for free," Hodges said. "So, I would like the time stipulation to be in effect."
Hodges said that what would work best is if the facilities were equipped with surveillance cameras, allowing the facilities to open earlier and close later.
Beatty also wants the time stipulation to be part of an agreement.
"My concern on that is how do you regulate that," she said. "It's going to make it very difficult for a customer to feel comfortable using a service that they're paying their hard earned money for and the city employee is getting it for free."
Beatty also mentioned during the meeting the discount would have been a more appropriate thing to do in a time when city employees were not getting paid competitively.
"It used to be that city employees received benefits that were different from the public because their wages were lower, but that's not the case now," she said. "Cities had to become competitive with their wages in order to hire a good staff."
Of the several issues swirling around the measure, Whitten said he was most concerned with the city being able to give back to its employees but possibly choosing not to do so.
Beatty simply believes it's a matter of equity.
"It's just not good government policy," she said. "Good government policy is that our employees are treated the same as other citizens."
The city council is set to discuss the measure at the next council meeting, which is set for 7:30 p.m. Monday at City Hall.