EMS

teacher of year embraces technology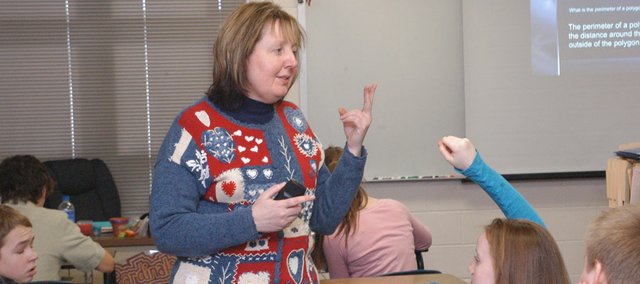 Eudora Middle School math teacher Marla Johnson walks up and down the rows of desks in her classroom, quizzing her students about perimeter and area. As she does so, slides from a PowerPoint presentation illuminate a white board and the hands of eager students shoot upwards.
Johnson, who was named Eudora Middle School Teacher of the Year, said the environment in her classroom reflects her understanding of technology in the classroom she learned in graduate-level studies. Johnson is pursuing a master's degree from Grand Canyon University in curriculum and instruction, with an emphasis in instructional technology.
"It's opened up a lot of things with math, especially with the classes I've taken," Johnson said. "I've learned how to utilize those tools much more efficiently and I have more creative ideas about what I can do with the kids to provide better learning, because math is just not one of those subjects that easily flows. Students are a little intimidated by math. It can be like learning a foreign language"
Johnson, who has spent nine years of her 20-year teaching career in Eudora, said being named teacher of the year meant a lot because of who nominated her.
"Well, I feel very honored because you're chosen by your peers and people of the community," she said. "So, you just feel like you're being acknowledged for the work you do. I feel like I'm being validated for the things I do in the classroom; people see that the students are learning, which is the primary purpose of education. You feel validated that you're doing something right."
She knew at an early age that she wanted to go into teaching and never considered another profession.
"I knew in first grade that was what my career in life was going to be," Johnson said. "My grandma was a teacher and she would share her stories with me, and I've just never thought of doing anything else."
Seeking a smaller staff than that of the school at which she taught in Topeka, Johnson came to Eudora. Here, she found her interest in technology mirrored by the school district
"I'm looking forward to incorporating more technology, especially as the district is moving forward with growth and technology that they're able to provide for the students," she said.
Eudora Middle School Principal Richard Proffitt was pleased with how readily Johnson embraced the use of technology in her classroom
"If you've been in education for a little while, even though technology is not very new, sometimes it's difficult to put it in your classroom if you have not been used to using it the way it is used now," he said. "For her to explore new avenues beside the traditional ways of teaching in her classroom shows that she's willing to grow and change and keep up to date so that we're providing the best possible education for our students."
The focus on the students is the key to Johnson's teaching style, as she fosters an environment rich in communication. For instance, rather than just telling the students facts about quadrilaterals, she has them make presentations using PowerPoint.
"They're not only learning about the classifications of quadrilaterals, but they're also learning how to make presentations to a group of people and have to think about the aspects of where they want to go with that," Johnson said. "It's a more engaged learning because it's relevant to them."
Technology also has made it easier for her students to prepare their presentations more neatly. For one thing, students don't have to worry about their inability to draw anymore, she said.
"Most kids don't feel comfortable with their artistic abilities, whereas with a computer, they can take pictures and download them," Johnson said. "The big thing is that people get this misconception that technology is the teacher, but it's just a tool. It's a tool that's very valuable. Kids are much more savvy about technology, but they don't know how to use presentation materials. They need to recognize that it's about communication."
Johnson wasn't just recognized for her teaching, but also her involvement with committees throughout the middle school. Proffitt was especially appreciative of her extra work.
"When you're talking about service to the profession, she is someone who is on all of our major committees," Proffitt said. "She's the chairman of our school improvement team; she is on Professional Development Committee and the Curriculum Coordinating Council, all of which make important decisions in curriculum, programs and a lot of things we do. And she takes a leadership role in all of those committees."
Johnson said she took part in such committees to better understand the professional side of teaching. Her principal said other teachers seek her out when they have questions regarding licensing and other topics.
"She's very organized and the rest of the staff know that they can count on her to provide information outside of the classroom," Proffitt said. "They know that she's a very reliable source of information. So, we're talking about someone who provides stability to an entire staff."