Limping in
Cardinals qualify four to state meet, overcome stacked regional field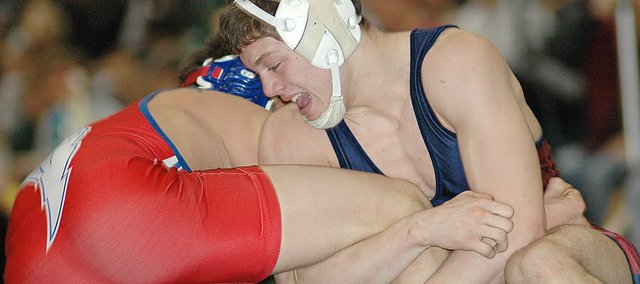 Eighty percent isn't bad, all things considered.
Eudora entered five seniors into the 2008 Regional Wrestling Tournament Friday, and four of those wrestlers - 140-pounder Travis Clarke, 160-pounder Jake Love, 171-pounder Chase Rust and 189-pounder Evan Meyers - got fourth place or better to advance to the state tournament Friday and Saturday in Salina.
"Any time you get seniors through to state, that's awesome," coach Bill DeWitt said. "I'm pleased."
The lone senior who didn't earn a state tournament berth was 152-pounder Gage Ham, whom DeWitt said wrestled well but ran into tough opposition.
"Gage was a little overmatched in his bracket," DeWitt said. "But he spilled his guts in his last match of the tournament."
Clarke reached state-bound status after a triple overtime thriller over Santa Fe Trail wrestler Chase Wells.
In a seldom-seen manner of deciding an overtime match, the two wrestlers went at it for a total of six periods. After the first three regulation periods, wrestlers enter into a two-period cumulative overtime. If neither wrestler has an advantage at the end of the two periods, the wrestler who scored first in the match chooses his position for a 30-second, ultimate tie-breaker. Wells selected the down position, and Clarke clung to Wells to the final horn, advancing Clarke to the state tournament.
"His weight-class was brutal, and his effort was awesome," DeWitt said. "A lot of technique was important, but it was all heart. It couldn't have happened to a better kid."
Clarke (34-11) will meet Concordia's Levi Whitley (33-9) Friday.
Love made short work of the Baldwin opponent standing between him and a state berth. After scoring on a takedown to go up 2-0, Love pinned his opponent one minute into the match. Love was never on bottom, something DeWitt sees as a key to his success.
"He's not particularly good on his feet and doesn't like to take a lot of shots. We have to start taking more shots," DeWitt said. "But he's pretty dominant when he's on top."
Love (30-12) will wrestle against top-ranked Clay Center wrestler Ben Davis (31-2).
The third senior, Rust, suffered a severe high ankle sprain Sunday and is most likely out for the state tournament. It's an unfortunate break for a wrestler DeWitt sees as one of the team's most improved.
"You talk about a kid who improved from night to day from the start of the season to now," DeWitt said, "that was awesome."
To qualify for state, Rust, a seventh seed, knocked off the second seed at his weight. Then in the championship round, wrestling for third and fourth place, he faced a Chapman opponent, junior Noel Richardson, who'd lost five times on the year. Rust went into overtime with Richardson before being taken down in sudden-death overtime.
Meyers was the only Eudora wrestler to place third in the regional, the other three losing their third-place matches. His one loss of the tournament was to the same opponent who defeated Meyers a week ago at the Frontier League Tournament, Ottawa's Dalton Lamay.
"He just out-worked me during our match. I'd like to have another shot at him, I know I can beat him," Meyers said. "All of us have a good shot at placing, we just want to go out with a bang."
In order to do so, one thing DeWitt sees as imperative to his team's success at state is something it must improve on from regionals.
"I've never seen a team so tight. We have to come out loose and just wrestle," DeWitt said. "They have to realize they came out of a pretty tough regional so, regardless of the match-ups at state, a lot of these kids who placed in this regional will medal."
The 2008 4A State Wrestling Tournament will start at 10 a.m. Friday at the Salina Bicentennial Center.
More like this story