The way she remembers it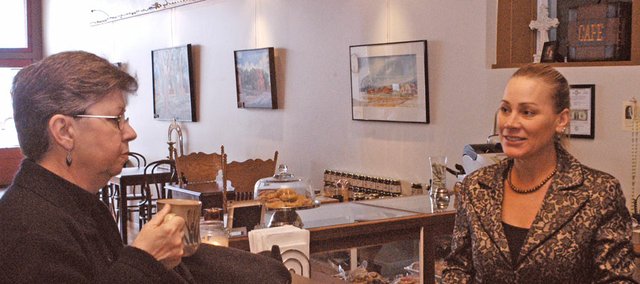 This is the second in a series of features on the artists who have works on display and for sale at Coffee Talk, located at 724 Main St.
Rosemary Murphy left Eudora more than 30 years ago to attend college at St. Mary's University. However, the buildings and landscapes of Eudora have remained with her.
Murphy, who now lives in Baldwin, has three watercolor paintings of scenes from the Baldwin area on display and for sale in Coffee Talk.
DeeAnn Alvarez, who with her husband David owns Coffee Talk, said she found out about Murphy through the Lawrence Art Guild and asked her if she would display some of her paintings.
Once Murphy, who is careful about where she shows her work, came in and saw the setting, she was happy to have her paintings displayed there.
Over the years, for various reasons, she has painted scenes of Eudora. In some cases, she has been commissioned to paint homes or old businesses. In other cases, she was just inspired.
"Sometimes something just strikes me, and sometimes I'm looking," Murphy said. "But I never feel compelled to use the exact colors that I see there. I see a lot of color in winter - I don't see gray, I see a lot of purples - and I love winter. It's one of my favorite times to paint."
One moment of inspiration led to one of her paintings being made into a postcard for the Kansas Artists Postcard series in 1999.
"Quite a few years ago, I got stopped on 1061 while they were working on the road, so I just sat there," she said. "Off in the distance, there was a farm house - and I love the look of light on things - and I started looking at that and making a few sketches and then pretty soon went back and took a photograph. And that ended up being an entry for me in the Kansas Postcard Series and it was accepted into their main show and travels periodically."
The most recent reason, though, is the result of a loss in her life. She was taking care of her ill mother for several years. Her mother, longtime Eudora resident Mary Nusbaum, died in December 2007.
"I hadn't painted for several months while my mother was in her last months, but it gave me time to do a lot of reflecting," Murphy said. "For me, painting places that were very familiar to her kind of helps going through that loss. That's a little bit of what this is about."
Murphy taught art at college and secondary levels, which is what led to her love of painting with watercolors.
"Through teaching, you get involved in a lot of different aspects of art," she said. "I ran into a wonderful watercolor teaching in Montana 30 years ago, and the moment I picked up the paint and the brush I was hooked on watercolor."
She also has shown paintings at the Lawrence Arts Center and has created stained glass works for churches in Kansas, Wyoming and Washington
Her mother's life currently is her muse, as she is painting scenes that were meaningful to a woman who lived in the same house in Eudora for 58 years. She would like to paint some of the churches as well as some buildings that aren't around anymore.
"I'm working on places now that my mother would be familiar with and have a story she would just know," Murphy said.
She also said she values the fact that she is able to use her painting now as an outlet to deal with her grief.
"I feel very fortunate because it really is a connection, and it's a connection to people that she knew when she was out and around," Murphy said. "If you can write, journal or paint or something, it's a nice way to remember and work through a loss."
Murphy hopes to have the new paintings featuring Eudora on display in Coffee Talk in early spring. Three of her other paintings can be seen and purchased at Coffee Talk, 724 Main St.
More like this story