Community coalition seeks $3 million grant for children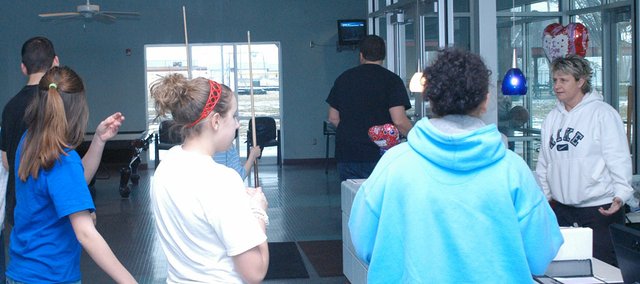 A community coalition headed up by the Eudora USD 491 came together last Thursday for an advisory meeting to discuss applying for a federally funded grant focusing on preventing violence and substance abuse among youth throughout Eudora.
The Safe Schools/Healthy Students grant would spread $3 million over four years and would seek to address five areas of concern for youths:
¢ safety and violence factors
¢ drugs and alcohol factors
¢ behavioral, social and emotional factors
¢ mental health factors
¢ early childhood and parenting factors
Members of the coalition will rank the five factors and discuss the results at a later meeting.
Although Assistant Superintendent Don Grosdidier said it might be premature to say what could happen should Eudora receive the grant, one possibility is after-school programs.
"This is a bedroom community in many regards," he said. "Parents are traveling east or west to work and many of them aren't home until six and you've got a timeframe there where a lot of kids are on their own. From a safe schools and healthy kids standpoint, that's not a particularly good thing."
More than 20 individuals from various organizations attended the meeting, including members of the Bert Nash Center, the Eudora City Council, the Eudora Chamber of Commerce, Douglas County Youth Services, the Eudora school district and the Eudora Police Department.
"Safe schools are not just about what goes on inside the walls of a school during a school day; it's about what goes on in the community," Grosdidier said. "It's a cliche that it takes a village to raise a child, but that's what this is all about - bringing all of these people together and identifying where the gaps exist within our community and then setting some goals and coming up with some programmatic ideas that the grant could fund."
Both Grosdidier and Eudora Parks and Recreation Director Tammy Hodges said they would like to do more than what now is offered in the way of after-school programs.
"With funding, you can do a lot of cool things," Grosdidier said. "You can't expect staff and teachers to work all day in the building and then volunteer their time from three to six and provide all kinds of neat activities for kids. So, whoever you're bringing in, whether it's your existing staff or other people to do those things, you need funds to do that. And those are funds we don't have right now."
Although there is an after-school program at the Eudora Community Center, Hodges said not many people are aware of it.
"My efforts yesterday were to let them (people at the meeting) know that, yes, we do have an after-school program and we do have it in play but it has been hard to get that through to the town," she said.
Hodges also said if Eudora receives the grant, any money that is doled out to the Parks and Recreation Department would be a big help.
"We've got to do more," she said. "We're here and we're trying to do as much as we possibly can, but then the staffing and budgeting came to the point where we can only do so much. This is going to be fantastic if we do get it; any little bit is going to help."
Any programs the coalition comes up with should be based on researched and proven examples.
"You can develop your own programs, but they look more favorably on evidence-based programs," Grosdidier said.
The proposal must be submitted to a coalition consisting of the U.S. Departments of Health and Human Services, Justice and Education by March 14. Grant funds could be awarded in early July and program then would begin in fall 2008.