Skunked at State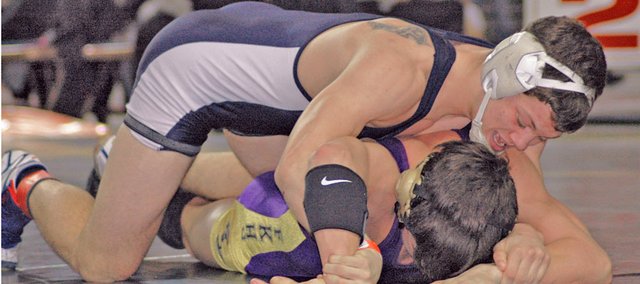 This wasn't what the wrestlers and their coach, Bill DeWitt, had in mind. This was the year Eudora would bring home hardware.
Fate, however, had other plans.
"They are disappointed, and so am I," DeWitt said of his three wrestlers who went Friday to Salina to try to capture a medal in the Kansas 4A Wrestling Tournament. "It would be a disservice to them if I wasn't. I don't have a lot of answers. We didn't wrestle well."
Most disappointing was that this was the final go-round for all three of the wrestlers competing. Chase Rust qualified last week but sprained an ankle the week of the tournament and was unable to compete. The other three wrestlers - seniors Travis Clarke, Jake Love and Evan Meyers - had all qualified for state in previous years and hoped to be competitive and in the hunt for a place-finish.
One of the wrestlers, Clarke, defeated three of the top five finishers in his weight-class earlier in the year and took another to overtime. Clarke beat second-place finisher Levi Whitley 2-1 at the Concordia Duals and drew him in the first round of the state tournament. Clarke lost, 6-0, pushing him down into the consolation bracket where he would win one match, a 4-1 decision over Coffeyville Field-Kenley wrestler Jared Hensley.
Clarke's Eudora wrestling career ended in his next match, when in the second period Quinton Wuthnow, Abilene, turned him on his back and pinned him with one minute and twenty-five seconds to go in the period.
Jake Love, 160 pounds, was the lone Eudora wrestler to leave Salina without a victory. In the first round, Love drew eventual third-place finisher Ben Davis of Clay Center. He lost that match 13-2 and dropped into the consolation side of the bracket where he fared no better.
Goodland opponent Ryan Taylor beat Love 3-2.
"He lost two close matches," DeWitt said. "The kid has got to take more shots, he's got to get more desperate. He's got to open up. It's just never been his style."
189-pounder Evan Meyers also got a tough draw on the front side of the bracket, matching up with Joel Marrs, Clay Center. Marrs finished the tournament one rung from the top with a silver medal.
Marrs pinned Meyers with one minute, nine seconds to go in the second period.
"Marrs is pretty good. He comes from a line of good wrestlers," DeWitt said. "I had a feeling that Marrs would probably get to the finals. He didn't wrestle the kid from Wellington at all. He made some pretty uncharacteristic mistakes."
The Wellington opponent was Dylan Bowman, who beat Meyers 9-7.
The losses mean that for a third consecutive year, Eudora won't get a medal at the state tournament, a goal that has DeWitt disappointed and a little frustrated.
"It's frustrating because that's what the public sees and that's what colleagues see," he said. "Right now, it's kind of disappointing. But all in all, they had good years. But I want some hardware and it's starting to wear on me and make me question my abilities because of my own competitiveness."
More like this story