Taking flight
Girls down Bishop Ward, set for rematch with Spring Hill Tuesday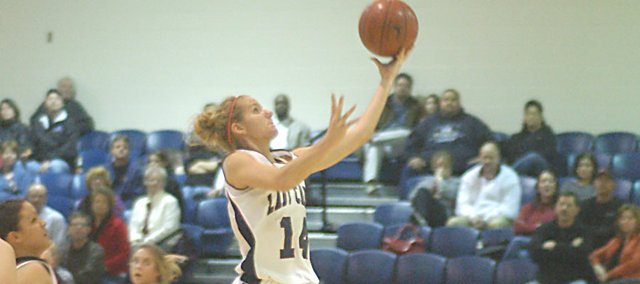 Two games and six days later, here we are again. The Eudora girls face Spring Hill Thursday night at Spring Hill in a sub-state semifinal showdown, the second meeting between the two teams in less than a week.
Eudora coach Ryan Luke looks forward to the challenge.
"They're going to probably make some adjustments," Luke said. "But we're going to make some adjustments, too. Our press is so versatile that it's like a chess match with their personnel and who we want to have the ball. In the third and fourth quarter, they didn't get the ball past half court very often, so that's what I'd concentrate on if I were them."
Eudora won Friday's game against Spring Hill handily, using explosive third and fourth quarters to erase a 30-23 halftime deficit and win 56-45. Senior Emily Ballock scored a game-high 28, 18 of which came in the second half.
It was an impressive third and fourth quarter performance, led by Ballock and junior Haley Epperson.
Eudora was trailing by two at the four-minute mark, but on consecutive Spring Hill possessions Ballock dove on the floor, collected steals, and got the ball to Epperson for layups. Ballock had three steals in the third quarter and another in the fourth.
Luke was quick to praise both players..
"We always want to be aggressive," Luke said. "Haley Epperson did a great job of knowing when to go and look for traps and jump the ball. Those two just work their tails off. It's awesome. I can't say enough about them."
The Spring Hill victory Friday pushed Eudora's record to 17-3, tied with Louisburg for tops in the Frontier League. But Luke insists a share of the league title is not the primary objective of this team.
"We talk about that all the time," Luke said. "At the end of the season, we can look back and see all the little things we've accomplished. 1979 was the last time a Eudora girls basketball team won a league title. But we've talked all year long about sub-state. I talk about it on a daily basis. Our maturity helps us be able to look ahead."
The Cardinals took the first step toward a state tournament berth with a dominating performance Monday against Bishop Ward in the opening round of sub-state.
The Cardinals thumped Ward 55-38 in their opening action of the postseason.
Eudora jumped out to a 14-5 lead in the first quarter with the help of two steals and four points from Epperson. Junior Kendal Abel also scored four in the first quarter.
Ballock then erupted in the second quarter for nine points and two steals as Eudora added to that lead and made it 30-14 at half. From there, Eudora would coast with the lead fluctuating to as many as 22 in the third quarter.
"We kept the pressure on them the whole game," Luke said. "Chemistry-wise, every thing went pretty well. Our pressure has gotten better and better. We're understanding our run-and-jump and when to trap and that makes it tough on teams."
The 18-3 Cardinals will face off against Spring Hill Thursday, and that game's winner advances to the sub-state championship Saturday at Spring Hill.