One down, two left
Girls knock off Atchison to advance to Tonganoxie semis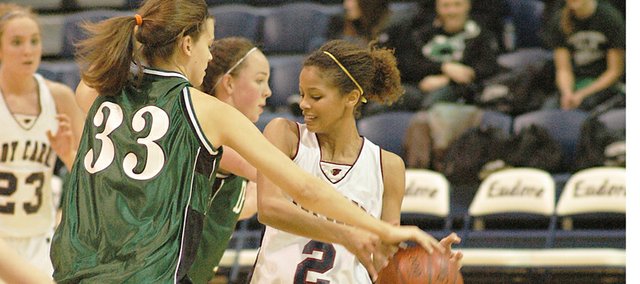 You get the feeling, when talking with Eudora coach Ryan Luke and one of his players, that there's a lot more to be desired in the Tonganoxie Invitational basketball tournament than the 59-28 thumping they laid on the Atchison Redmen Tuesday night.
Coming off a week in which they beat De Soto handily, 52-34, the team is focused solely on beating a 7-3 Lansing squad.
That's the next step toward the obvious ultimate goal - winning the tournament.
Winning Tongie's home tournament would more than likely mean defeating Tongie itself, a task that has eluded the Cardinals in last year's sub-state and in an earlier matchup at the Paola Invitational.
"I think it's good for us," Luke said of facing a tough Lansing team before the potential match up against Tonganoxie. "We've had some good opponents. I don't know if other than Tonganoxie if we've played a team as good as Lansing. We'll have our hands full."
Senior Elaina Kouri echoed those sentiments after having her best game of the year against Atchison.
"We know Lansing is a good team," she said, "so we're just thinking and preparing for them."
If one hadn't seen a scouting report, they'd be a little unsure of what was in store Tuesday when the starting lineups were introduced and the last starter for the Redmen was announced, 6-foot-2 junior Lillian Cooper.
Cooper blocked a couple of shots early on and it looked as if the Cardinals would have a tough time in the low post. Eudora eventually was able to execute an aggressive plan.
"We really wanted to take it at her. We wanted to get her up on the high post a little bit and take her to the basket," Luke said. "Overall, we don't want our girls to be intimidated by height so we tell the girls to be strong, take her to the bucket and get her up in the air with good ball fakes."
The Cardinals did execute that game plan effectively, and jumped out to an 18-2 lead in the first quarter. Senior post player Nikki Snider held her own down low, getting six rebounds and two blocks to go along with four points in the quarter.
Defensively, once again, Eudora's speed and pressure would beleaguer their opponent. The zone and man-to-man press were both effective, and led to easy transition buckets for the Cardinals.
Kouri collected two of her seven steals and around the two minute mark she scored on a jumper, stole the ball on the press and converted an uncontested layup to force Atchison to call a timeout and regain their composure down 12-0.
"Just with the practices we've been having, I think it's really helped with being aggressive and just taking the ball, both for me individually and with everybody," Kouri said.
Kouri collected two more steals in the second quarter, and the Cardinals maintained their comfortable lead, heading into halftime up 30-13.
"She's got great ability. I've talked to her about, 'Be a scorer, be a scorer,' because she could be a really good scorer," Luke said. "That's a great thing to get her involved more, get some more production, because she's a really good talent."
Besides the defensive effort by Eudora, the team was furthermore aided by their ability to beat Atchison down the court, even on made baskets.
Luke said the team saw some things on film and, as always, wanted to play fast and beat their opponent down the court for easy baskets.
In the third quarter, it would be more of the same for the Cardinals thanks to strong play from Bailey Scott. The junior point guard put up six points and got two steals.
Luke was able to send his starters and big-minute players to the bench midway through the fourth quarter with a 57-28 lead. Sophomore Shea Lounsbury added the final two points of the contest.
Snider and Scott led all scorers with 12 apiece, while Kouri added eight.
The majority of the scoring in the De Soto game for Eudora was done by junior Haley Epperson, who finished with 15. Senior Emily Ballock had 11.
Now, all focus is on Lansing, with tournament title hopes alive and well for the 8-1 Cardinals.
The two teams will meet at 3 p.m. Friday.
"We've looked at film, and got an idea of maybe what they're going to try to do with us," Luke said. "We'll go prepare for the next two days and hopefully we'll be ready to go, be focused."