Township fire department looking for new recruits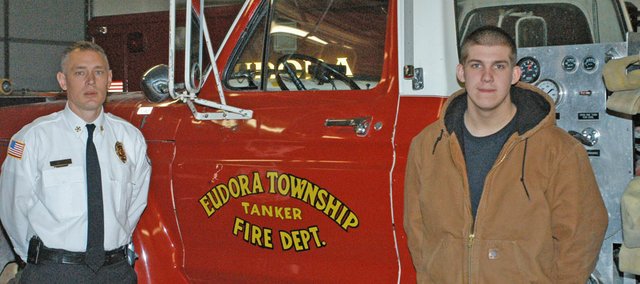 When Eudora Township Fire Chief Mike Baxter is called to a fire, the last thing he wants to worry about is whether or not there will be enough manpower to put out the blaze in a safe and timely manner. Unfortunately, that is the position in which he and the rest of the Township Fire Department find themselves.
"It makes us rely more heavily on outside departments - the city of Eudora, Wakarusa Township, De Soto and so forth," Baxter said. "It makes a big impact on initial attack."
The Eudora Township Fire Department is manned solely by volunteers, and with three of them out with injuries there currently are only 18 available firefighters.
The department would have a full staff at 30 and a minimum of twelve people are needed to work a fire.
"We're not always available," Baxter said. "Fires come in at different parts of the day and people work - some work nine to five and some work three to 11 - unfortunately fire doesn't follow civilian shifts.
"A lot of people have a misconception when they think of a fire department that someone is there 24 hours a day, seven days a week. Here, we don't have that luxury. We rely completely on volunteers; we have no set schedule. There's just not enough funding available for that."
The Township Fire Department covers about 50 square miles of rural land north to south from the Kansas River to 700 Road and east to west from the Johnson County Line to 1800 Road.
The population census for that area is 7,800 people, but the department is only set up to handle an area populated by roughly 2,000 people.
Each firefighter is paid $10 for every call, training session and meeting they attend and the Fireman's Relief Association provides extra life insurance because of state fire insurance taxes. But money has nothing to do with the motivation for doing a job like this.
Some do it out of a need to give something back to the community.
"When I found out that this was all volunteer, I said, 'I've got to do this,'" firefighter Justin Robertson said.
Robertson, who currently is out on injury after breaking his leg at his regular job as a mechanic, has been serving with the department for a year-and-a-half
"When the call comes out or the pager goes off, I'm sitting down and eating dinner with my son, I've got to drop everything," he said. "It's not only fun, but it's a way to give back. Whether I work a 12-hour day or not, it just doesn't matter."
Baxter said some individuals volunteer because they want to become firefighters.
"Some do it because they want to make a career out of it, and this is a good opportunity for those individuals," he said.
"Giving back" is a phrase that certainly is thrown around in the context of any volunteer work, but the Township Fire Department literally is giving back. They recently donated money from a Halloween safety fair to the burn unit at Children's Mercy Hospital.
They plan on doing a bike rodeo to make sure children have safe helmets and a car seat check. They also provide building and daycare inspections.
"It's a full service department," Baxter said. "We're volunteer, but we provide everything that a full service department does."
Being a full service department has been more challenging since their numbers have dropped, though.
"Like Mike said, it takes a whole department of people to do this job, and when three people are out on injuries, it makes an impact," Robertson said.
The application process to join the Eudora Township Fire Department consists of a background check, a short interview and a department vote.
For more information, call the Eudora Township Fire Department at 542-2800 or call Mike Baxter at 423-5998.