West Elementary teacher of year loves to loop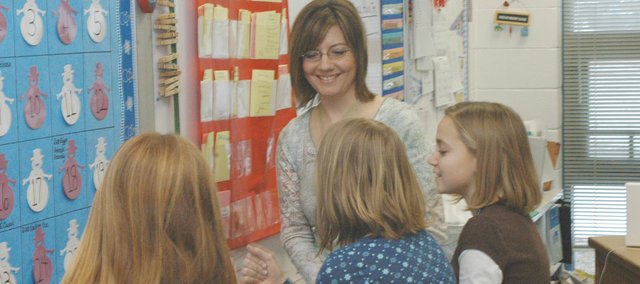 Last week, each school in the Eudora School District named its teacher of the year. This is part one is a series of profiles on each of the four teachers.
A special connection to her students is what West Elementary School Teacher of the Year Megan Whitebread attributes to her ability to excel at teaching. That connection only grows stronger because for about the last four years she keeps each fourth grade class and teaches them in fifth grade.
This practice, called looping, has allowed Whitebread to gain a better understanding of each of her students.
"I feel like it's a huge advantage that I have and my students have because I am able to really figure them out," she said. "I know what their strengths and weaknesses are, I know what they know and don't know. That second year is such a breeze to transition from the last year."
Whitebread, who has been teaching in Eudora for 10 years and has lived in Eudora for 20 years, was nominated in letters written by students, parents and staff members that were sent to the district office. Finalists were sent back to each building and decided upon by a committee using a scoring rubric.
She received the award Jan. 23.
"I was completely surprised and shocked," she said. "I had no idea that they were going to be announcing it, much less that I was going to be selected. It was really exciting."
Growing up in Lawrence, she knew at an early age she wanted to be a teacher - something to which she credits her third grade teacher, Karen McCoy.
"She was creative and made learning really fun," Whitebread said. "I used to play teacher all the time when I was little and just always knew it's what I wanted to be."
After graduating from Kansas University in 1995, the wife and mother of two at the time had a unique student teaching experience, as she did her student teaching in a classroom that was next door to her eldest son Collin's kindergarten class.
"I got to watch him when he first started school, which was really fun," she said. "When I first started teaching fourth grade, he wasn't in my class, but he rotated through."
She stayed at home for three years when she had her third and youngest son, Jake.
"Tyler, my middle child, never had the privilege of rotating through my class," Whitebread said. "He really was not happy about it; he never let me forget it. I think he's okay with it now, though."
She loves to do hands-on activities in order to keep her students engaged and said her favorite subjects to teach are reading, science and language.
"I do everything but dance a jig up in front of the class, just to make it fun and interesting," she said.
Trust also is an important part of her relationship with the students.
"Megan is one of the quiet leaders in our building," West Elementary Principal Jan Irby said. "She has the biggest heart for children of any of our staff. She's just amazing. She has that perceptive ability to really be insightful of children's needs."
When spare time exists, Whitebread said she enjoys the simple pleasures in life such as just being around her kids and her husband, Chad.
"I love to read, I love to cook - that's my relax time, come home and cook dinner," Whitebread said. "My husband and I like to go to movies and just generally spend time with my children. I don't have any exotic hobbies, although I do love rappelling and skiing."
While she is excited to win the award, she already is thinking about the great things she'll be able to do with her students when the new elementary school is built.
"I think it's going to be amazing," Whitebread said. "I like to bring technology in as much as I can. I can't wait to have a Promethean board."
Irby also extolled Whitebread's ability to get along well with other staff and parents, too.
"She's that all-American good teacher that every principal should be so lucky to have," she said.