Eudora Police Department test Tasers before use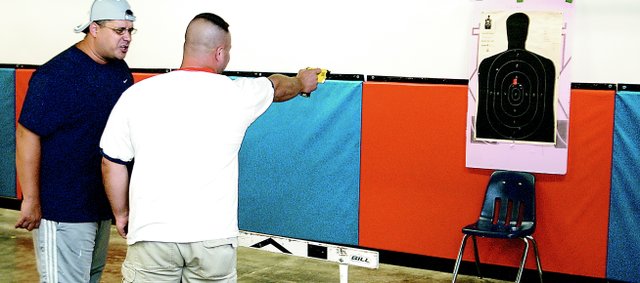 As Eudora Police Corporal Grady Walker walks five Eudora police officers Thursday through Taser training exercises in the dimly lit weight room at Eudora Middle School, his directions focus on safety.
It's not just the safety for the officers that is of interest, but also safety for the person on whom the officers might have to use their Taser.
"You always have to weigh in the totality of the circumstances and what's in the best interest of everybody involved - what's safest for everybody," Walker said. "There are tactical considerations for everything; it's a constant ongoing process.
"It is such a litigious society that you have to completely weigh everything. That's why training like this is so important."
The Eudora City Council approved the purchase of four Tasers in February at a total cost of $4,010.09.
"The Taser is another tool in the tool box for the officer to use," Eudora Police Chief Greg Dahlem said. "It's basically a protective device and gives them another way to take control of a combative suspect or suspects. It's probably one of the most important tools that an officer is going to be able to carry."
Tasers shoot two, half-inch barbs into combative or nonresponsive subjects and allow an officer to control them using electrical currents. The charge lasts for five seconds, but can be turned off at any time.
The barbs stay connected to the pulse controller via two small wires that are 25 feet long. However, officers have the best accuracy when shooting at a distance of 7 to 15 feet away from a subject.
It is best to deploy the Taser into a subject's back because there are more muscle groups in that area. Officers are instructed to avoid the head, face, throat and genitals.
When it comes to the amount of force an officer can use, Tasers provide a middle ground between using a steal baton or guns. Dahlem said officers would avoid having to draw their guns when possible.
"The last thing an officer wants to do is have to take someone else's life, and this is another way for the officer to not have to do that," he said.
While the officers in the EPD are pleased to have another means to protect themselves and the community, they aren't quite as overjoyed to go through one particular part of the training.
If they want to carry a Taser, they must take a jolt from it. Officers didn't have to endure the full five-second jolt and could tell the officer shooting them to stop the current.
"It's really hard to describe; it's a feeling I've never had before," Dahlem said. "It's not like the shock you get off of a normal household outlet. You have no control and you know what's going on. I could see everyone in the room and I could hear them talking and I was even able to tell the officer 'I'm done.'"
Police officer Ryan Healzer, who has been with the department for about five years, said though it wasn't necessarily pleasant, he and the other policemen in the department were glad to be able to have a Taser as an option.
"It just takes over your whole body, but it's a good experience and I'm glad we did it," Healzer said. "I can speak for everybody here because I know that they're glad they took the ride, too. It's going to help deter a lot of problems and keep us a lot safer."
The ten officers who successfully completed training began carrying Tasers as of last Friday.