Skillyfully played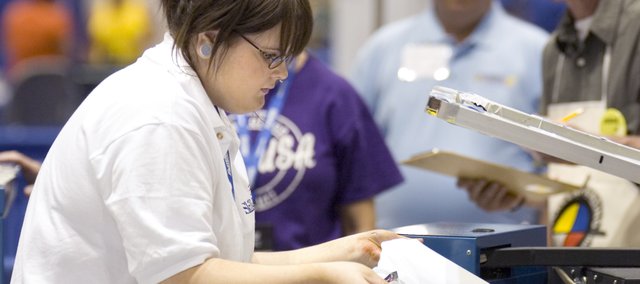 Julia Packham wasn't supposed to be at the SkillsUSA National Leadership and Skills Conference Thursday.
"At state I got second," the Shawnee Mission Northwest senior said. "I shouldn't even have gone to nationals, but the first-place winner wasn't able to go."
Julia competed in the Food and Beverage Service competition and won second place out of 35 contenders dubbed the best in the nation.
She wasn't supposed to go to competition, but she came home with a $10,000 scholarship for the New England Culinary Institute in Vermont.
"To be honest, I really didn't think I was going to place at all," she said. "There were two big mistakes that I thought were pretty key."
The Food and Beverage Service competition tests contestants on skills required in the "front of the house" in a fine restaurant. One of Julia's mistakes was forgetting to hand the judge acting as a customer the menu after she seated her. She also forgot to remove the charger plate.
Julia is currently enrolled in the culinary arts program at Broadmoor Technical Center, and her instructor, Chef Robert Brassard, encouraged her to compete.
"Hospitality was a part of culinary and my instructor Bob said 'Hey, you should try out for this. I think you have the personality for it,' so I did," Julia said.
The SkillsUSA National Leadership Skills Conference last week filled Bartle Hall and several other areas in downtown Kansas City, Mo., as more than 5,000 competitors in 91 contests competed to be the best in the nation. The contest covered 787,482 square feet, or the equivalent of more than 16 football fields.
Several other students from the Shawnee Mission School District competed, as well as one student from the Eudora School District.
Brennan Trupka, a student at Shawnee Mission Northwest, competed in the Architectural Drafting competition.
From Eudora High School, 2008 graduate Samantha Randel competed in the screen printing competition.
Samantha said on her contestant information sheet that she took graphic communications because of its graphic design aspect.
"My future plans: attempt to get an apprenticeship to become a tattoo artist," she wrote.
Brennan wrote that he is an Eagle Scout who likes to work with his hands and build things, so he thought the drafting and design program would help him down the line.
"I enjoy working with computers and hope to use CAD (computer-aided design) programs when I am working as an engineer," he wrote.
Julia said she is really interested in interior design and culinary arts, so she will take interior design at Northwest next year, and she will continue to take culinary classes at Broadmoor. She hasn't yet nailed down where she wants to go to college or culinary school, but she knows that she would rather not do the business side of things.