City feels budget crunch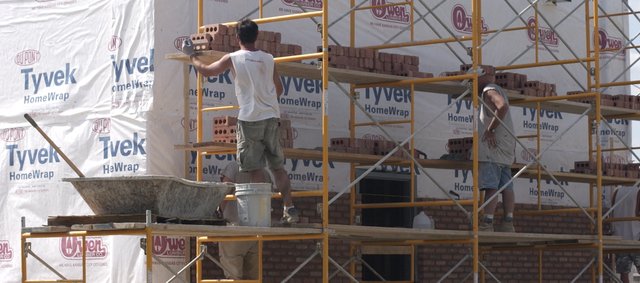 Eudora City Administrator Cheryl Beatty presented city council members with a tough choice at a budget workshop last week.
The council could raise the mill levy four mills for 2009 or limit the mill levy increase to two mills and cut jobs or programs, the city administrator said.
Beatty presented a proposed 2009 budget at a work session attended last week by the Eudora City Council and department heads. Revenue shortfalls were the result of the housing slump that reduced the number of housing starts in Eudora from about 117 in 2003 to just nine in 2007.
Beatty said fewer new homes meant the county collected less sales tax on large appliances and other big-ticket items bought for new homes at a time the city is facing increased fuel costs. Fewer new homes and lower housing demand also kept the city's assessed valuation flat at about $40 million.
The only rise in revenue came from franchise fees for natural gas, which didn't offset lack of revenues from sales tax and development, which have dropped significantly over a two-year period.
But as revenue sources remained flat, operational costs spiked because of rising fuel and materials costs.
"With revenue dropping and increased prices, we're in this crunch just like everybody else," Beatty said.
In order to save money, Beatty recommended a freeze on all salaries and an elimination of a 3-percent cost of living raise for city employees. She also proposed a reduction in overtime for the police and street departments.
In order to increase revenue, Beatty recommended price increases for municipal court costs, aquatic and recreation center fees as well as an increase by the police department in the issuance of tickets.
Beatty said the council also should investigate annexing part of the Kansas Highway 10 corridor in order to have a greater area to issue more tickets.
The proposed cuts and increases would add up to about $230,000
Beatty presented the council with a grim choice of increasing the mill levy from 2008's 24.144 mills to 28.254 mills or limiting the increase to two mills but cutting jobs or programs.
The proposed general fund budget would total $2,399,973 compared to the estimated 2008 budget of $2,369,280.
A public hearing on the budget will be at city council meetings on either July 28 or Aug. 11. The new budget is due to the county by Aug. 25.
City officials also set aside time decided against the purchase of Durr house.
The land - a 3.5 acre parcel in the Intech Industrial park - would have cost $150, 000 and moving the house would have cost between $20,000 and $40,000.
"On top of everything else, we did not have a commitment from any specific group or organization that was going to take the house after we moved it," Beatty said.
USD 491 has had interest from bidders and will further discuss the issue at Thursday's Board of Education meeting.