DEBA

tries to stay positive during construction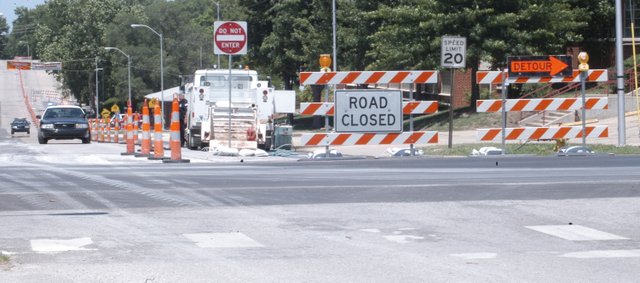 It's going to be inconvenient, but the results will be worth the inconvenience.
That was the message given to members of the Downtown Eudora Business Association July 2 during a preconstruction meeting.
RD Johnson Excavation officials and Eudora City Administrator Cheryl Beatty met with the group to discuss what would be happening when the downtown revitalization project began.
New sidewalks will be added and new lighting installed from Seventh to Ninth streets on Main Street. Main Street also will be repaved and fitted with new curbs and gutters from Sixth to 10th streets. Waterline and storm sewer improvements will be the most time-intensive parts of the project.
The project is getting started about three weeks later than was expected. Furthermore, it will take about two months longer than expected because the city found it could afford to make more improvements to the streets and to storm drains in the area of the fire and police station.
While the amount of time the project could take was troubling, DEBA members understand the project would improve the area.
"It (the meeting) was very informative," said Dan Strimple, owner of Cutter's Smokehouse and Pub. "I'm very concerned about the length of the project - that's going to be tough on businesses down here. But I am for it, no doubt about it. It will help Eudora, and I'm for that."
Construction began Monday on the east half of Main Street, and Jason Hoskinson, design engineer for BG Consultants, said it probably would take until late September or early October to finish the work on that side.
Construction first will concentrate on the southern end of Main Street in front of the police and fire station, but will be in full swing by the end of July.
"It's going to take the contractors a few weeks to really get moving because, with these projects, you get more efficient as you go," Hoskinson told the group.
Other than the repaving of streets, sidewalks will be the last improvements to be made.
Roger Johnson, the owner of RD Johnson, said their goal was to be finished by early December.
However, Beatty said the project would work around the CPA Picnic and EudoraFest.
Weather will determine the project's completion date, but what is found when crews gain access to 100-year-old infrastructure under the street will also have a bearing on the schedule.
Officials had hoped to cut down on large truck traffic, but hit a snag when they found Hamm Quarries is hauling rock for the I-70 interchange project near Tonganoixe. Hamm trucks will be allowed to transport rock between 10 p.m. and 6 a.m.
"We know throughout the project that little issues like this are going to come up and we'll do our best to work with the business owners as well as the contractors and the users of the streets to try to work those kinds of issues out," Beatty said.
DEBA President and co-owner of DC Custom Cycles Tina Lencioni said it is important to not be negative during what will be a long construction process.
"We have to keep remembering the outcome of what is going to be here after it's done," she said. "It is what it is - it's going to happen and we have to stay positive."
Strimple already has made a point of trying to look at the bright side of things.
"We have some patrons that have been negative about it, so we do our best to spin that around. It's going to be an inconvenience to our patrons, but it's our livelihood and it's just something we've got try to get through. Hopefully the community will support the downtown businesses as we go through this tough time."