KDOT

notifies city of bridge, K-10 projects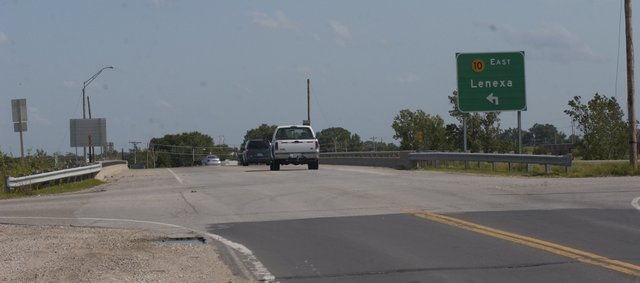 Residents of Eudora will become well acquainted with orange construction cones this summer and into next fall as work begins not only on the downtown revitalization project but the main entry to the city.
Douglas County Public Works Director Keith Browning notified Eudora city officials late Thursday afternoon of a construction project on the Church Street bridge over Kansas Highway 10. The project will include some surface improvements with work on the embankment and approaches to the overpass.
The overpass is one of two roadways in Eudora that connect to the southern part of town where the middle and high schools are located, as well as the Eudora Township Fire Department.
The project, slated to begin the last week of July and end by Oct. 1, is part of a $635,000 Kansas Department of Transportation bridge program that includes three other bridges just east of Eudora on K-10. Progressive Contractors Inc. is the project contractor.
Unlike the other bridges, the Eudora overpass project is not on K-10 itself but part of a intersecting street.
KDOT Area Engineer Earl Bosack said the agency forgot to notify Douglas County and Eudora officials of the project.
"We got ahead of ourselves, and we didn't think to let all of the parties know," Bosack said. "I dropped the ball on this one."
New approaches - which are the sections of the road that are about 10 to 13 feet from the actual bridge - will be constructed to correct the direction in which water drains off of the bridge.
The construction, which will limit traffic on the bridge to one lane, will cause further congestion to an already busy roadway once the school year begins on Aug. 12.
"We'll try to make people aware of the construction and alternate routes they can take during this process," Eudora Superintendent Don Grosdidier said. "It's just something we'll have to deal with."
Although Eudora City Administrator Cheryl Beatty would like to have been notified sooner, she was pleased the state is paying for the upgrades.
"Anytime you have agencies doing improvements it's good," Beatty said. "The flipside of this is that there could be no improvements and infrastructure could be falling apart with no funds to fix them."