Last week of 7-on-7 sees Eudora sweep but questions unanswered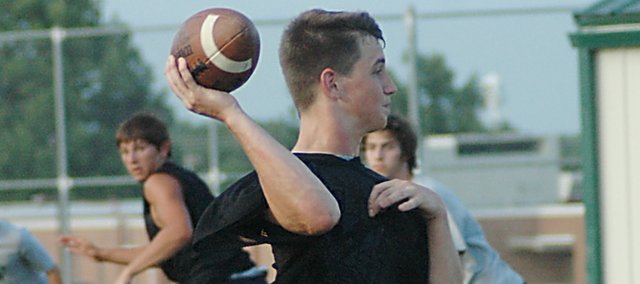 Monday night's 7-on-7 passing league finales saw Eudora pick up another pair of victories, which brought its final record to 5-2-1. While impressive, coach Gregg Webb said he didn't expect to learn a lot about his team during the four weeks of the league.
"It just kind of solidified what I already knew," Webb said.
What he already knew was that his linebackers, secondary and wide receivers are all solid. The only question he had about the positions that participate in 7-on-7 was at quarterback, but a wildcard and an injury have kept that competition open.
The wildcard is Zach Bryant, who has never played at Eudora. Last week Bryant took snaps with the team and showed flashes of his potential.
On Monday night Bryant was the only quarterback available so every snap of both games was his. That exposed a few weaknesses, but Webb said he also saw a few things he liked about Bryant's game.
"He throws a really nice, catchable ball and not everybody does that," Webb said. "He also has a great quick release. When he decides to throw it, he throws it."
One reason Bryant was the only available quarterback is that Evan Cleveland's injury was diagnosed as a broken foot, which keeps him out six to eight weeks.
Cleveland injured the foot last week in the Cardinals' second game. He came down awkwardly on it after breaking up a pass in the end zone.
"We hope he'll be ready for the first game, but it does limit his reps offensively," Webb said. "He's a smart kid and has played cornerback before so I don't think he'll have a problem defensively. The issue is that we were hoping to take a serious look at him on the offensive side of the ball and that's where it's going to hurt him."
Despite the injury, Eudora took positives away from its overall 7-on-7 experience.
"It showed us that we've got some kids that can fill in," said William Gadberry, who caught two touchdowns in game two Monday night. "We lost a few linebackers last year, but it looks like we're going to be okay. We lost our skill positions, but I think we'll be okay. I'm encouraged."
Webb said his team's keys to victory never took the field during 7-on-7 because they were busy in the weight room.
"Our issue is our men up front, our offensive and defensive lines," Webb said. "That's where football games are won and lost."
With 7-on-7 drills behind them, Eudora's next step is team camp July 21 to 25. Until then, Webb said, every one of them should be in the weight room working to get bigger, faster and stronger for the upcoming season.