Horsethief race finishes just ahead of weather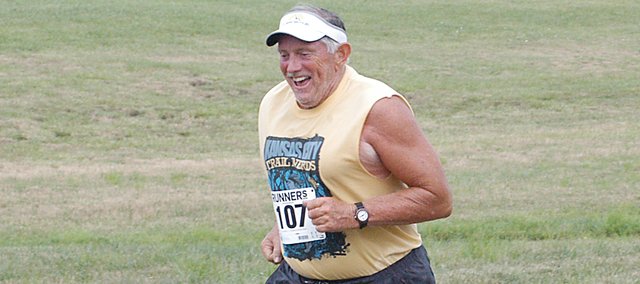 The speeches and trophy prize presentations finished just in time Saturday. Seemingly on cue, once race organizer and Eudora High cross country coach Paul Boone concluded his speech and presentations, mother nature cut loose and heavy rains befell Eudora, but not in time to put a damper on the 2008 Eudora Horsethief 5K Race and one-mile Fun Run.
In all, 138 competitors ran the race, and 23 of those were people who chose to run a one-mile portion of the course.
The 5K overall race was one by Joe Moore, Manhattan, in a time of 15 minutes, 55 seconds. Cody Burns, Eudora, took third in 17:03.
Boone also divided the field up into age and gender groups, presenting the top three finishers in each classification with a horseshoe commemorating their placing in the event.
The race benefitted the Cardinals cross country team and funds will be used to purchase fuels - food and drink - for members of the team and could finance a training trip. So at least for the day, mother nature may have been looking down favorably on the Cardinals.
Read more in Thursday's edition of The Eudora News.
More like this story