City treasurer retires after 33 years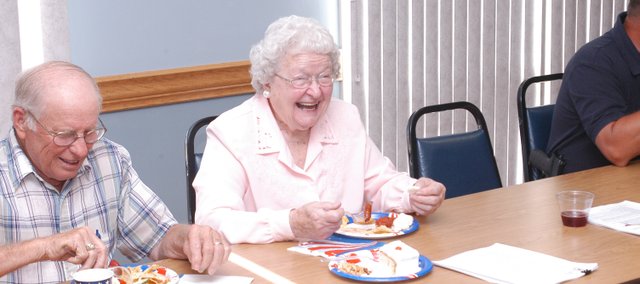 As a stream of people exited Marge Gronniger's retirement party Monday at Eudora City Hall, they wished her well after 33 years as Eudora's treasurer.
She would have left the building with them, but she wanted to stay for what would be a two-hour city council meeting. After all, being aware of the things happening in the town she loves is what she would miss most.
"I'll miss knowing about everything that is going on in the city because we (city workers) always talked and were aware of what was going on," Gronniger said. "We knew what kind of new businesses were coming in or we knew when the police had gone on some special call."
Keeping up with all that was happening was one of the things City Clerk Donna Oleson said she would miss about working with Gronniger.
"She was always willing to take part," Oleson said. "And if there was ever a problem with your family, she was there to help you or send you a card."
Gronniger said Oleson was her favorite city clerk because Oleson gave her the most raises.
Gronniger's thirst for knowledge might best me exemplified in the fact that she began taking classes in journalism from Kansas University in 1977 when she was 58.
"There was a very controversial course at KU called integrated humanities that I had always been interested in," Gronniger said. "Then, I woke up one August morning and there was a report on the radio saying that the integrated humanities course probably was going to be taught for just one more year."
She then took a map of the KU campus from the Lawrence Journal-World and found her way to the admissions office to enroll.
"Since I was taking the one course, I thought I would take a journalism course, too, since I'd always been interested in newspapers," she said. "In the end, I took course after course and finally decided I might as well get a degree. I was definitely a nontraditional student."
Gronniger finished her degree in 1983 at the age of 64, taking one year off in the middle of her studies after she broke her leg.
Many of those in attendance also spoke of how mentally sharp she was.
Eudora Police Chief Greg Dahlem told of a time when city paychecks weren't to be deposited until 3 p.m. on Friday, but he cashed his just five minutes before because he thought it wouldn't make a difference.
"A few days later, I got a phone call from Marge because she saw the date and time stamped on the back of the check," Dahlem laughed. "I have never done that since."
Mayor Tom Pyle said one could ask her just about question regarding the city and she would be able to answer it off the top of her head.
"She always had such a great memory," Pyle said. "I've been with the city council for almost 33 years and it's been enjoyable because of people like her."
Both City Administrator Cheryl Beatty and Planning Commission Chairman Kurt von Achen wistfully recalled her ability to keep the planning commissioners in line during meetings. In one instance, she even pounded on the table while she told them they had made a mistake.
"She was a wonderful help and all of the planning commissioners appreciated what she did for us, including pounding on the table to keep us straight," von Achen said.
After all of the compliments and stories praising her attributes, Gronniger remained humble.
"I think they were embellishing," she said.
As the council meeting came to a close, Gronniger retrieved her purse and left with a smile, appearing to still be in possession of the energy and pep she had when the meeting began some two hours ago. Maybe that's because she knew she would change and adapt to her retirement just as she had the several changes she'd adapted to over the last 33 years.
Plus, she already had a new project to begin.
"I'll keep up with things, but I will be down in my basement cleaning that thing up," she said.