USD

491 to keep budget promise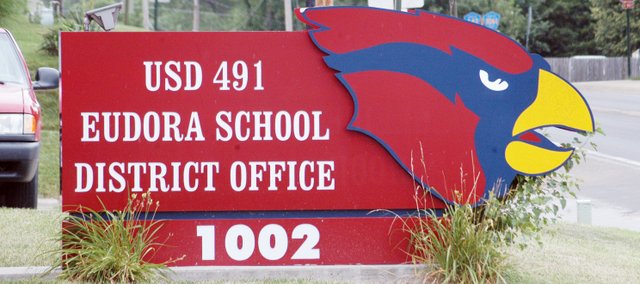 The Eudora USD 491 Board of Education plans to keep its promise to taxpayers in keeping the mill levy flat after an approval of the $45 million school bond last November.
The board approved the preliminary budget for the 2008-2009 school year Thursday, which estimated the mill levy at 66.350, compared to last year's rate of 66.530.
Even cuts were needed in other areas, Superintendent Don Grosdidier said board members wanted to make a point of keeping their promise to the community.
"It's critical to do that," he said. "Hopefully, we'll get the growth that we projected, but as we planned through this, the overriding thing that we've made sure of is to maintain that flat mill levy."
In April, Rob Schwarz of RSP Associates said population growth in the district had slowed and estimated t would increase by 33 students in the 2008-2009 school year.
Student growth is one of the main factors in setting the budget each year because the schools are funded on a per-pupil basis, receiving a base of $4,433 for each pupil.
But sluggish development in Eudora - which can be attributed to everything from the lagging economy to the lawsuit with Douglas County Rural Water District No. 4 - has caused the district to be more conservative in that number, planning on an enrollment growth of 10 pupils.
The district currently has at least 13 new pupils.
District finance director Peg Buchanan also told the board the district should take a conservative approach because the assessed valuation - which will not be made official until October - would be flat, and possibly lower than last year.
Grosdidier also noted that although the district passed the bond issue in November and just two weeks ago received a four-year, $3 million grant, those funds can't be put toward any general fund expenditures.
"We addressed needs that we had through the grant," Grosdidier said. "That money - at least for four years - will address those needs and take some pressure off of the general fund. But it's not like we can take the grant money and apply it to teacher salaries and buy new busses."
The district will meet Wednesday with state officials to discuss the budget. They are proposing an operating budget of $11,897,679 compared to last year's budget of $11,415,387.
"In terms of operating budgets, a lot has been made of food and fuel costs and we try to plan for that, but the economy is in such a state that I don't think anybody knows what's going to happen nationally, at the state level or locally," Grosdidier said. "It's a trickle down effect and every level of government is feeling it."
In other actions, the board:
¢ Discussed concerns regarding the Durr house.
The Durrs must be out by Oct. 1, but it's going to take about 30 days to get rid of house so the district is worried about getting behind in construction of the $27 million elementary school. Ads for the house will be placed in the next two weeks, and bids will be received until Aug. 12.
¢ Re-appointed Kenny Massey president and Joe Pyle vice president of the board.
¢ Replaced Brenda Clark with Belinda Rehmer as negotiation representative. Clark opted out of her role for the coming year because of scheduling conflicts.