Eudora readies for
CPA

Picnic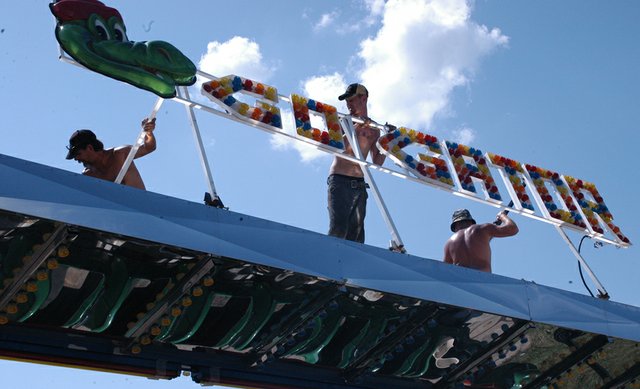 Eudora's CPA Picnic will celebrate its 100th year of existence when festivities kick off at 6 p.m. Thursday. with carnival rides and games across the street from CPA Park, at the corner of 9th and Main streets.
CPA President Jerry Trober said nothing special would be done to commemorate the centennial year, as the picnic itself is celebration enough.
Though construction on the downtown beautification project will present some challenges, Trober said everything would be business as usual.
"We'll work around the construction," he said. "As long as the kids have fun, that's all that matters."
The three-day event draws people from throughout the region who will come for the carnival and parades or to catch up with old friends.
"A lot of people that come are small town people or are coming back for their class reunion," Trober said.
The CPA, which stands for Central Protective Association, began the annual picnic to honor members of the group who protected Eudora from cattle rustlers and horse thieves in the late 1800s.
Proceeds from the event go to various groups throughout Eudora.
"Every penny that we make we give back to the Boy Scouts, the Girl Scouts, the churches - if it's a nonprofit organization in Eudora, we donate money to them," Trober said.
Trober has been in charge of organizing the event for the last 20 years, though the typical term for a CPA president is two years.
Thursday/July 24
¢ Carnival opens 6 p.m.
Friday/July 25
¢ CPA Golf Tournament at Eagle Bend Golf Course in Lawrence, 8 a.m. Golfers should arrive by 7:30 p.m.
¢ Holy Family Catholic Church food booth opens, 4 p.m.
¢ Live music at CPA Park gazebo, 8 p.m.
Saturday/July 26
¢ Children's pool activities, Eudora Community Aquatic Center, 1 p.m.
¢ Holy Family Catholic Church food booth opens, 4 p.m.
¢ Live music at CPA Park gazebo, 8 p.m.
CPA parades
The Children's Parade will start at 7 p.m. Friday with registration beginning at 6:15 p.m. at City Park, across the street from City Hall at 7th and Main streets.
No motorized street vehicles are allowed and the parade committee will make the final decision on all entries.
¢ The grand parade starts at 7 p.m. Saturday with registration beginning at 6 p.m. in the parking lot at Laws Stadium. Due to the downtown beautification project, the parade will end just past CPA Park at 9th and Main streets. Call Dirk Lehmann at 542-2189 for information on either parade.
More like this story