Gorilla warfare
Ballock battles injury in sophomore year at Pitt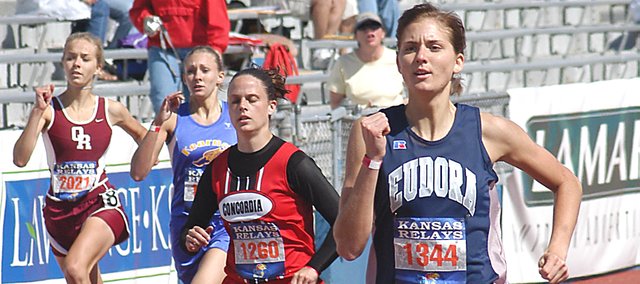 As a Cardinal, Megan Ballock seldom faced a challenge she didn't overcome.
An All-State athlete on the track and the cross country course, Ballock pushed herself to be the best and punished any opponents who tried to get in her way. As a member of the Pittsburg State University track and cross country teams, the course has steered Ballock in a different direction.
The transition from a high school athlete to a collegiate athlete was more than Ballock was expecting.
"At first it's a real eye-opener," Ballock said. "Everybody is a lot better than they were, workouts are much harder and the competition is completely stepped up."
Though she may have felt a little overwhelmed, Ballock continued to star as a runner. In her first season on the track team, Ballock was a four time all-conference performer in the Mid-America Intercollegiate Athletics Association.
She placed fifth in the 800 meters at the indoor conference meet, then bumped that to third at the outdoor meet, also tacking on a pair of outdoor titles in the distance medley and 1,600-meter relays.
Everything was perfect, until an injury and an illness crept up on her and effectively wiped out almost an entire athletic year. During her sophomore year, Ballock was forced to take a redshirt year in cross country, but was able to compete in track.
After her stellar track season, Ballock took a few weeks off before picking up her training again. It was a month into this training session that she developed a stress fracture, which immediately put her on the sidelines. The cause of the injury is still unknown.
"Usually they develop from running too much, but I had only been running for a month so I really don't know," Ballock said.
Ballock's desire to return to her normal routine actually cost her any chance to run during the cross country season.
"It was really hard for me because the whole season we thought that I might come back," Ballock said. "Every couple of weeks I would try to run again and it would just set me back another two weeks because I tried to go too early.
"I had to sit there watching my team get better and better but not be able to help at all."
Ballock's stress fracture eventually healed, but as the track season commenced she had to deal with an iron deficiency condition and was again forced to watch from the sidelines.
Time off certainly wasn't what Ballock was hoping to get out of her sophomore year, but that period of non-competition does have her raring to go for an extra special junior campaign.
"It really makes me motivated to work extra hard this year to have a good season and make up for what I lost," she said. "I feel like I'm a lot stronger than I used to be."
Ballock says the injury and illness are both behind her and she's ready to get back on course. She will have to fight to make the top five of a cross country team that finished third at the '07 regional meet and includes fellow Eudora graduate Brittney Graff.
This time around she hopes the Gorillas can qualify for the national meet, with her setting personal records along the way.
A successful cross country season would be the first step back, and she must also reclaim her status as an all-conference track performer. It won't be easy and there's plenty of work yet to be done, but Ballock believes the passion enrooted in her from the Eudora High coaching staff will help her make it back.
"My coaches were amazing," Ballock said. "They made me love the sport and gave me the inspiration and motivation to continue with it."