Cardinals notch three victories Saturday before elimination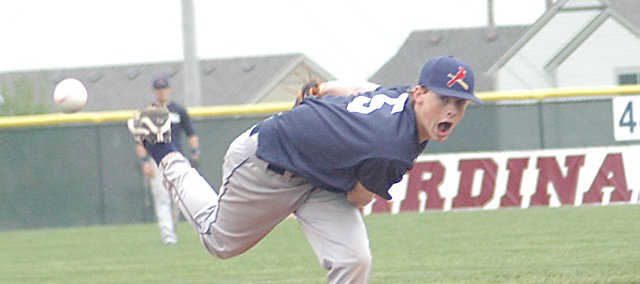 It was a run the team may remember for years to come.
With its back against the wall heading into the weekend, Eudora rattled off four straight victories and came within three outs of beating the No. 1 seed and earning a berth in the Kansas Amateur Baseball Association league championship game. The Cardinals were tantalizingly close to the crown, yet few would have predicted them to finish anywhere close to third.
Last week Eudora split games with Pomona and Osage County. That meant the Cardinals entered Friday night's game one loss away from being bounced from the tournament. They responded with an 8-0 romp over Parsons in five innings.
"I still think that when we got there we weren't too sure about ourselves," coach Paul Houle said. "We had played some good ball but we really hadn't played up to our potential. Getting through that game was more of a sigh of relief as opposed to a huge confidence builder."
Relief came not only from the victory but also from not having to use any relief pitchers, something that would play a huge factor over the weekend.
Eudora's first pitch with Osawatomie was at 2 p.m. on Saturday, and it turned out to be the first game of a seven-hour tripleheader. Like all the games on Saturday, it ended with the Cardinals on top but in this one they needed a hero. In stepped Kyle Swanson.
With Jackson Wiley standing on second base and the game tied, Swanson ripped a walk-off base hit to left center. It was the first walk-off for Eudora all season.
"I think that jacked up their confidence, knowing they could win with their backs against the wall," Houle said.
Eudora won the game 6-5 and used the momentum to steamroll Garnett, 13-3, in the teams' 4:30 match-up.
"That was the best we hit the ball all season," Houle said. "It was fun to watch."
"I told our guys before the game, 'Nobody except these guys in the huddle expected us to be here,'" Houle said. "'We don't have any pressure, all the pressure is on Coffeyville. Don't hold anything back.'"
Swanson twice laid down sacrifice bunts to move Wiley over to second base and he eventually scored each time. Eudora led 2-0 in the bottom of the seventh.
After giving up a single and a walk, Eudora surrendered its first run off a blooper to left field. Then, with runners on second and third, the Cardinals tried to execute an intentional walk.
"This is probably my fault because we had never gone over intentionally walking someone," Houle said.
Pitcher Craig Harper overthrew catcher Tyler Beebe, which brought in the tying run and put the winning run on third.
Eudora intentionally walked the next two batters to load the bases and brought the infield in to try and get the out at home. However, Coffeyville's next batter cracked a chopper over the second baseman and won the game.
"They took it hard, there were definitely some tears," Houle said. "The hardest part was that we could see the light at the end of the tunnel. We've struggled so much this season with little aspects of the game and finally we hit on all
cylinders.
"You could tell that the kids had a higher understanding of the game."
Though disappointing, the loss doesn't end Eudora's season. Last night the Cardinals played their first game of the American Legion Zone Tournament in Kansas City and tonight they will play again.
Houle's only problem with the 10-run victory was that it left his team with a lot of time on its hands. The Cardinals had to sit around for more than an hour before taking the field and he feared they could get
lackadaisical.
"That break was a big concern for me because it's very easy to let your mind slip," Houle said. "If you're not into it from the first pitch to the last pitch then (Fort Scott) will take you out of the game."
Houle played mind games and told his team that this was their first game of the day. The ploy worked as Eudora scored three runs in the bottom of the fifth to defeat Fort Scott 4-3.
"Three games, three wins; anyone will tell you that's a tough thing to do," Houle said.
For all its hard work, Eudora was rewarded with a Sunday afternoon game against Coffeyville, which swept the Cardinals earlier in the year.