Finding her niche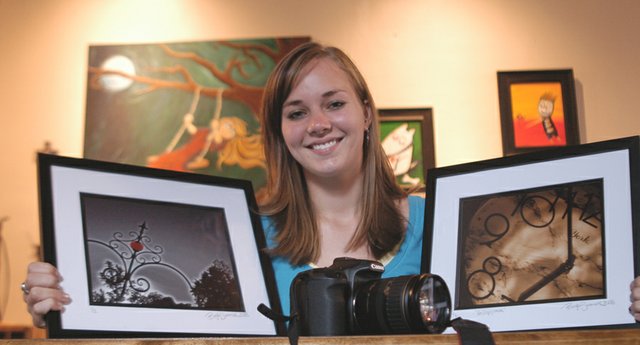 This is the fifth in a series of features on the artists who have works on display and for sale at Coffee Talk, located at 724 Main St.
It has been said there is nothing new under the sun. Such an idea is what drives photographer Baylee Schmeck to adapt techniques she admires and recreate them without aping them at the same time.
She prefers to create something new from the sum of her influences as opposed to becoming a carbon copy of them.
"I'll see shots I like and try to figure out what the technique was and sit down with my own camera and then put my own twist on it," Schmeck said. "I try to personalize it."
Schmeck, who will be a senior at Eudora High School this fall, still is relatively new at photography.
She began taking pictures after receiving a point-and-click digital camera in eighth grade.
"It took me forever to pick it up, I was actually afraid of it," she said. "Once I did, I loved it and was taking pictures constantly. It's pretty important in my life to take pictures."
Schmeck's pictures, which earned her awards at last spring's Frontier League Art Show, rarely involve people and capture perspectives and viewpoints of objects that are less than typical.
"What I find interesting with her is that she can take things that are so simple and look at them in a way that I would never in a million years think to take a picture," Baylee's mother Pam said.
EHS teacher Matt Bova, who had Schmeck as both an English and a photojournalism student, said the time she put into her work showed she had an obvious desire to do something different.
"Having her in two classes, I get to see the creative fertility of her mind," Bova said. "She's a kid who spends a lot of time thinking and trying to understand the way things look. She really gets this deep satisfaction from constructing images. You can't teach that."
Such attention to detail is visible in one of her photos at Coffee Talk, called "Unstoppable." The photo is of the face of a clock, but captures the fluttering movement of the second hand. What took especially long with the photo was waiting for the hand to get to the right position.
While she wants to continue to progress artistically, she also is pushing herself to start taking pictures of people. She believes that if she wants to make photography her vocation and not just a hobby, she'll need to have that background.
One of the ways she moved in that direction was when she photographed the ribbon-cutting this at Medicalodges, Eudora.
"I'm pretty shy, so if someone asked me not to take their picture I told them 'okay' and it was discouraging," she said. "It was a good experience, though, and it helped me a lot."
She also has been taking senior photos for EHS students, something in which she takes pride because of how much it stretches her sensibilities.
EHS art teacher Gary Hinman said he noticed a profound improvement from her work in her sophomore year compared to her work at as a junior, which both he and Schmeck believed occurred because she began to work on projects based on her own photos as opposed to those of someone else.
"I'm so impressed with her work this year, and I'm looking forward to having her back next year," Hinman said.
As the summer winds down, Schmeck still is stalking that elusive setting that will allow her to capture something completely different. She and her mother probably will take a short trip before school gets back in session.
"It would be nice to go to some of those places that you see in photographs that are pretty, but it's been done many times because it's the prettiest place in the world," she said. "It would be nice to find my own little spot that's not as widely used and get some good pictures out of that."
Schmeck plans on attending Kansas State University after graduation and majoring in artistic photography. Her photos can be seen and purchased at Coffee Talk, 724 Main St.