Medicalodges receives Medicare certification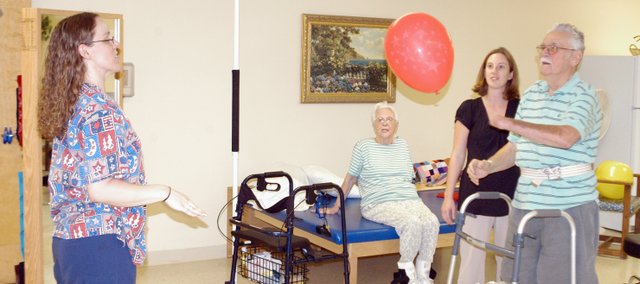 It's Friday afternoon and Eudora resident Richard Folks is in the middle of a physical therapy session at Medicalodges, Eudora as a result of a right knee reconstruction.
His left knee requires the same surgery, and while the 84-year-old retiree doesn't look forward to another round of post-surgery physical rehabilitation, the fact that he will be able to stay at Medicalodges, Eudora on a rehab-to-home basis eases his mind about the procedure.
Folks' rehab-to-home stay is a first at Medicalodges and comes as a result of the skilled nursing facility officially becoming Medicare certified on July 13.
The certification will allow community members to use the facility in a rehabilitative, non-permanent manner.
In this particular instance, Folks' surgery was done at Shawnee Mission Hospital and he then was transferred to receive physical therapy at Medicalodges.
"They started this down but they can only go so far, so we came here and we're home now," Folks said. "They're taking good care of me."
Medicare A will pay for up to 100 days of room, board, medication and therapy. Medicare B will pay for 80 percent of the cost of therapy, thereafter.
The facility formerly was called Eudora Nursing Center, but was purchased by Coffeyville-based Medicalodges Inc. Nov. 1. Acquiring Medicare certification was one of the first things Medicalodges President Garen Cox hoped to accomplish.
Medicalodges, Eudora administrator Tami Klinedinst said the certification is a positive for the facility and members of the community.
"Medicare is a payer source, and if you want to survive in the industry, you've got to have that payer source to continue services," she said. "Plus, with the way money is right now, patients need that extra payer help in order to get the rehab they need."
Folks, who is receiving help from Faye Miller, said the proximity of care improved the amount of comfort he has, but it also alleviated the burden of having to travel during a time when gas prices have increased to nearly $4 a gallon.
"If you look at Richard's case, he can still stay here as a member of the community and then as he's home and needs to continue rehab, he can come back as an outpatient and that makes it a lot easier on them," Klinedinst said.
Klinedinst also said being able to receive Medicare patients will add to the continuity of care Folks and future patients will receive.
"With the same therapist, they know his history and they know what they've done with him in the past and where they need to take him," she said.