Morgan Abel goes against state's best: It was exhilarating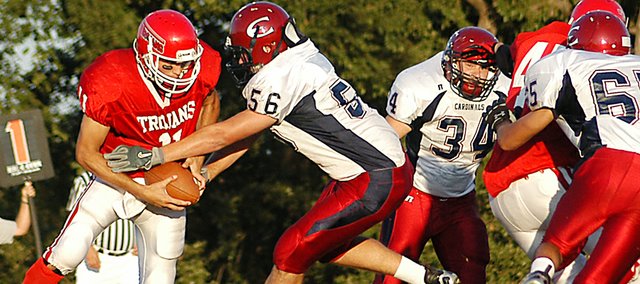 Morgan Abel's prowess on the gridiron earned him a selection to the 2008 Kansas Shrine Bowl, which was played in Emporia on Saturday. What he got in return was a little perspective and a heaping pile of memories, both on and off the field.
The top 68 players in the state as chosen by the coaches and media are selected to participate in the Shrine Bowl, now in its 34th year. The high level of competition means a high level of intimidation when all of the players finally get together.
"I expected it to be a little more high pressure and high intensity (than most exhibitions), so I knew I would have to play well and I was a little worried about that," Abel said. "But as the week progressed on we all got to know each other and it was a little more fun and exciting.
"We just got along so well and had a lot of fun with little hi-jinks and stuff like that. It was an absolute blast."
The game itself was hotly contested with each team fighting for every yard.
The score was tied at 21 in the fourth quarter when Abel's East squad pulled ahead 28-21. The game looked to be theirs as time ticked away, but with 20 seconds to go, West quarterback Cole Cherryholmes of Remington capped an 80-yard drive with a 17-yard touchdown pass. Then he connected on the two-point conversion to win the game for the West squad.
Abel recorded one tackle, which came in the third quarter.
"It was a great battle on both sides of the ball for both teams," Abel said. "It was really exhilarating."
The intensity of the game surpassed Abel's lofty expectations and he said the atmosphere was everything you could hope for.
"High school football may not be as big here as it is in other states, but coming in everybody wanted to represent our school and our side of the state as best we could," Abel said. "I think it's a great thing to represent Eudora because there are good football players here."
The Shrine Bowl is more of an event than a game as it includes a 5K run, a parade and several other entertainment events for the crowd. They also had planned activities for the players the weekend before the game, the first of which was a guided tour of the St. Louis Rams practice facility.
The players toured everything from the field to the film room and coaches offices.
"It was absolutely amazing," Abel said. "Everything was high tech and very advanced."
In addition to the practice facility, the players also visited patients at the St. Louis Shriners Hospital for children.
"I had heard from a lot of people that it was going to be an eye-opening experience, but I could only take their word for it," Abel said. "The second I saw those children, I realized we really are blessed to be able to play a game when these kids are struggling day in and
day out."
The hospital visit certainly was an eye-opening experience, but really the entire week was filled with valuable lessons and Abel noted a couple
lessons in particular.
"Football-wise, you've got to just let it all out and play as hard as you can every down, because if you don't there's really no point in playing," he said. "And in general, don't take things for granted.
"The Shriner's motto is, 'Strong legs run so weak legs may walk.' That's a great motto and we certainly tried to live up to that."
More like this story