Standout volleyball player plays with former foes in game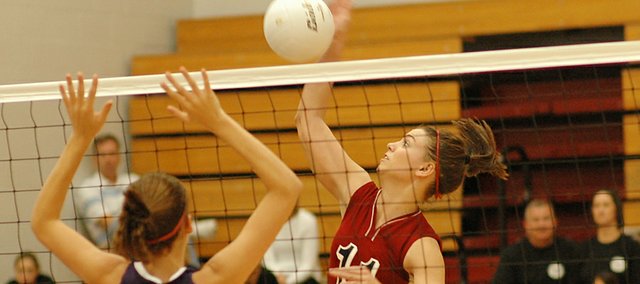 After an excellent four-year career at Eudora, Nikki Snider was selected to participate in the Kansas Volleyball Association's All-Star match on Saturday.
To make the team, each senior had to be nominated by their coach and then out of all those nominations the most worthy candidates were chosen.
"It felt really good to know that they wanted me to play and for me to get a chance to play with these girls one last time," Snider said. "Instead of playing against them, though, I was on the same side as some of the girls I've been against for four years."
At first, Snider said she thought it was weird to see her usual opponents on the same side of the net, particularly Corinne Stringer of Hayden, whom Eudora saw every year it went to state. However, it didn't take Snider long to warm up to the idea.
"It was really fun working with them as a team rather than being against them," she said.
The match was highly contested all night.
Snider participated on the Blue team, which overcame a late deficit to take the first game 31-29. The Red squad, led by Newton's Camri Zwiesler and Dana Loganbill of Moundridge, responded by scoring the most lopsided victory of the night, 30-23.
Game three was a thriller from start to finish, and it required several extra points to determine a winner. Eventually, Red escaped with a 37-35 victory and led the match 2-1.
Blue had to capture game four to make game five meaningful and it nearly pulled off a comeback similar to the first game, but Red held it off to win 30-28.
Blue came back with a 15-13 victory in the final game to bring the final match score to 3-2. Usually a loss, especially one as close as Saturday night's contest, is tough to take as a player. However, Snider wasn't too disappointed with the defeat because of the environment.
"No one really wanted to win, it was just a 'have fun' game," Snider said. "We were thrown in there and just had to work with what we were given because we had only three practices. It was more to have fun rather than to be competitive."
Snider has always played in the middle, but because of an excess of players at that position she had the opportunity to move around and play mostly on the right in this game.
"I thought I played pretty well," Snider said. "In college you don't know where you're going to get stuck, so this gave me another look."
Snider has committed to play volleyball at Seminole State in Seminole, Okla., which is five and a half hours from her current home. Snider said that has her nervous, but she's also excited to get back out and play.
She said she had plenty of fun at the event, but that doesn't mean there weren't any lessons to be learned from the match. She was a little humbled by being surrounded by so many talented players.
"Just because you're good where you're from, doesn't mean you're going to be good there," she said.
When Snider does leave for Oklahoma to start her collegiate volleyball career, she'll begin with more knowledge and confidence than she had heading into Saturday's contest.
"To play with all of these great high school girls who are going off to college, it really gets you ready for the next level," Snider said. "It was a once-in-a-lifetime experience."