Off to Tar Heel country
Former Cardinal makes leap from juco to Division
II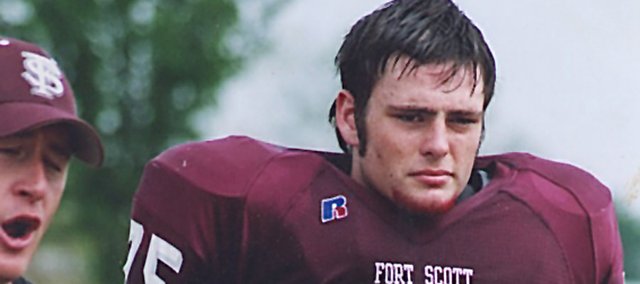 When Joel Morrison started playing football at Eudora, there wasn't much reason for anyone to think he'd amount to anything on the gridiron.
Morrison was too small, too slow and didn't have the athleticism to compete with the rest of his teammates.
"Joel is a perfect example of why you just don't give up at an early age," Cardinals head coach Gregg Webb said. "He wasn't a great athlete, but he tried exceptionally hard."
Morrison kept working and with the help of a few growth spurts, he transformed himself into a 6-foot-5, 265-pound collegiate football player. After two years on the Fort Scott Community College offensive line, Morrison will continue his athletic career at the University of North Carolina at Pembroke.
In early May, Morrison signed to play right guard with the Division II Braves after taking a visit to campus.
"Pembroke flew me out here and I got a look at it and really liked what I saw," Morrison said. "It's close to the beach, which is really nice."
The beach was one of many factors in Morrison's decision to pick Pembroke over some of the other schools that were recruiting him.
In addition to UNCP, Morrison received offers from Central North Carolina, Glenn State, Missouri Northwest State and Missouri Southern. Besides the pleasant campus, he was lured to Pembroke by the scholarship opportunities.
"Through academics and football I received a full-ride scholarship, so it just made sense to come here," he said.
Morrison reported to campus to start training May 29, and he's already noticed some big differences between community college and D-II. One major thing is the fact that the Braves have a coach just for strength and conditioning to help get the most out of each workout, something absent with the Greyhounds.
However, there are also some similarities, and one of those has Morrison very confident about the upcoming season.
"Pembroke runs a zone offense and that's what we ran last year, so I think I'll fit right in and perform well in that offensive package," Morrison said. "I can do very well down here."
Morrison is living with other football players, and said most of the other offensive linemen are already on campus and working out with him everyday. Because of this bonding and his time spent around all the players, Morrison thinks that he has a pretty good idea where the team is headed in the upcoming year.
"We should do very well this season," Morrison said. "We're returning a lot of our starters from last year and we've added a lot of talented players on top of that. I see us making the playoffs."
If past performance is any indication, Morrison will have a lot to do with his team's success.
Fort Scott was winless in its two years before Morrison's freshmen class arrived, and that group is credited with turning the program around. In 2006 the Greyhounds went 7-5 and in 2007 they followed that up with a record of 9-3.
One of the difficult things about playing football in North Carolina is being so far away from home. Morrison admitted that it would be challenging to compete without his family's presence, but he said the citizens of Pembroke have made him feel very welcome.
"The community here really backs the football program, so if you go anywhere they know you're a football player and they really support you," he said.
Morrison hasn't forgotten about where he got his start and still thinks fondly of Eudora and coach Webb.
"I really respect him as a coach," he said of Webb. "What I learned there helped me once I got to junior college and it helped me get to where I'm at."
Likewise, Webb has nothing but great things to say of his former player.
"A lot of people are willing to quit when things look like they won't turn out like you want them to," Webb said. "He was strong willed enough to continue to fight, and we couldn't be happier for him.
"He proved that if you're willing to put your nose to the grindstone hard enough and long enough, then you can accomplish just about anything."
Because he's playing for free, Morrison plans to finish out his athletic career at UNCP. However, unlike some players, that final game won't be too tough for Morrison, because that's when his real career begins.
Morrison has always wanted to go into law as a career, and after he completes his pre-law undergraduate study at Pembroke, he wants to apply to Georgetown for law school.
"I love football, that's why I play it, but it's really helped me out a lot to get to where I'm going," Morrison said. "My ultimate goal is to get into law, and really football has been a means to that end."