Ballock easy choice as 2008 Female Athlete of the Year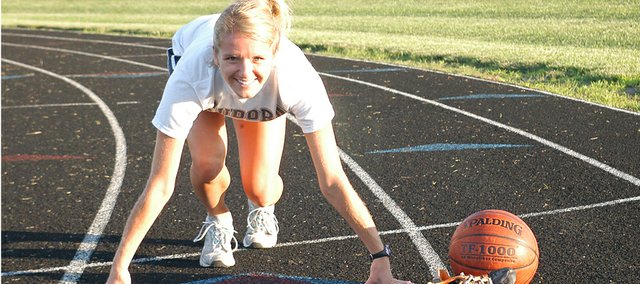 Emily Ballock is now formerly of Eudora High School, and that's tremendous news for the rest of the Frontier League and Class 4A as a whole.
Ballock dominated on three fields, and her impressive performances in each sport make her The Eudora News' pick as female athlete of the year for the second consecutive time.
As a high school graduate, Ballock now has the chance to take a look back and soak up her athletic accomplishments.
"I feel that I made great strides and great improvements," Ballock said. "From the start to the end, I'm way ahead of where I was."
That seems like a gross understatement, but the goal of all athletes is simply to get better than they were before, and perhaps no female athlete at Eudora did that better than Ballock.
Ballock started at Eudora playing volleyball, basketball and track and field. In the latter, she had no idea that she'd run hurdles, let alone become a four-time state champion in the event.
"When coach Katzenmeier approached me and said, 'I'm going to make you a hurdler,' I was like, there's no way I'm doing that," Ballock said. "I still didn't like them the first couple of weeks, but once I got into races, I became a perfectionist about my technique and about winning."
As the only girl hurdler at the time, Ballock was Katzenmeier's experiment try to turn a sprinter with natural athleticism into a hurdler. Like Dr. Frankenstein, Katzenmeier created a monster, only his creation didn't terrorize a town, just her competition.
"My freshman year I was a wild card," Ballock said. "I came in, ran hard and surprised a lot of people by winning. Each year since then I just built on that and kept the streak alive."
Two things changed her sophomore year. Ballock switched out volleyball for cross country, and coach Ryan Luke took over the basketball team, enacting a fast-paced scheme that fit her like a glove.
The feeling was mutual, as Luke quickly realized what type of talent he had on his hands.
"She did everything as far as leadership for us," Luke said. "She's just a complete player, offensive, defense and knowing how to lead a team.
"She was the glue that held us together sometimes."
Ballock knows that some athletes with her gifts in track would drop other sports to focus solely on the one, but that's never a sacrifice she planned to make.
"I love basketball, and I would never quit it," she said. "I've played since I was like five and basketball was in my family."
It's also family that brought Ballock to cross country. After giving volleyball a shot her freshman year, she decided to take her sister's advice and try giving distance running a try.
While she stops short of calling herself a distance runner, others may disagree. Ballock got a little better each year, and in the 2007 season she met her goal of a top-20 finish at state.
Ballock finished 17th, tops for the Cardinals, with a time of 16 minutes 42 seconds. This came despite splitting her practice time in the fall between cross country and cheerleading.
That was probably the least impressive of Ballock's senior feats.
In basketball she led the team at point guard with per-game averages of 11 points, four rebounds, four steals and three assists, garnering honors like Frontier League MVP and third team all-state along the way. She also left quite an impression on her coach.
"If you were to have a daughter, you'd want your daughter to be like her," Luke said.
Basketball success was nice, but everything Ballock did this year was a prelude to her quest for a fourth straight state title in the 300-meter hurdles.
There were times that it looked like she may fall short, but when the pressure was on, Ballock rose to the occasion and cruised to the crown in a time of 44.83 seconds.
The whole season, and really her entire track career, was a buildup to that race, and that came with plenty of outside distraction. Somehow she found a way to block all of that out and just run.
"I felt that I lived up to the hype pretty well," Ballock said. "Obviously I got the fourth title, which capped everything off, like a perfect streak. I just tried to run strong, stay focused and not let the outside influences take a toll on me or affect my performance in the meet."
Ballock will continue her track and field career at Wichita State, where she'll compete at the same track on which she won her state medals. That means that competitive basketball will be a thing of the past, but like certain basketball players over in Lawrence, Ballock's athletic accomplishments at Eudora will be talked about for years to come.
"You know, when you look at the KU basketball players and someone says, 'Oh, he reminds me of a Wayne Simien,'" Ballock said, "it's really cool hearing your name brought up and having people compared to you. It shows a sense of accomplishment, a sense of pride, and it's just really cool."
More like this story