Eudora ties Baldwin, loses to Piper in 7-on-7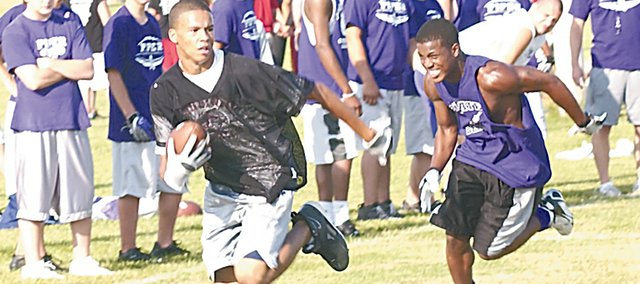 Eudora appeared a little bit sharper in the second week of seven-on-seven passing scrimmages at De Soto Monday, but that didn't exactly translate into the win column.
Junior-to-be Drew Noble looked better this week at the quarterback position, throwing for both of Eudora's touchdowns. Also in the hunt and getting repetitions at quarterback was Ben Katzenmeier, a candidate who has logged snaps at the varsity level in the past.
Eudora tied Kansas City Piper, 1-1, before losing to Baldwin, 2-1, in its second game.
Bryan Dudley and Christian Richardson both caught a touchdown.
Read more in Thursday's edition of The De Soto Explorer.