Area hardballers play in annual all-star game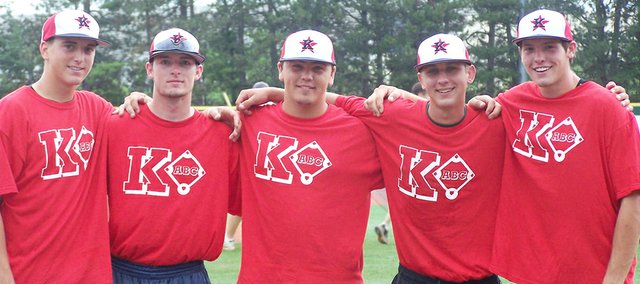 Following a stellar senior season that saw him hit .483 and score 29 runs, former Eudora standout Matthew Abel was selected to participate in the Kansas Baseball Coaches Association All-Star game.
The game, which took place on June 11 in Manhattan, brought together a collection of the top graduated baseball players in Kansas as chosen by coaches from all over the state. Four teams, comprised of 17 to 20 players each, were selected to play a pair of nine inning games.
"It was a big honor for me," Abel said. "Once I got there you could definitely tell that some of the best players in the state were there and I felt honored to be playing with them and honored to be chosen by the coaches across the state.
"It was a big deal."
Abel regularly plays summer league baseball as a member of the Lawrence Raiders, and two of his teammates were selected to play on his team in the all-star game. Joe Kornbrust of Lawrence High and Caleb Gress of Free State played alongside Abel, and if their presence made him feel like it was just another game, his manager is the one who made him realize the magnitude of the situation.
Only a month earlier Abel's high school baseball career came to an end at the hands of Bishop Ward and its coach, Dennis Hurla. In Manhattan, Hurla was the head skipper of Abel's red team.
"That was pretty cool," Abel said. "I mean, I lost to him in all three years of varsity baseball. It was pretty cool to get to know him.
"He's a great guy and I could tell how he gets his players to play for him, he's really energetic. He's a classy guy, so it was just a lot of fun."
Abel said he got as much enjoyment out of the game as he expected to, but he overestimated the intensity.
"It was a relaxed game, the coaches weren't on us at all," Abel said. "It was about everyone showing their talents and their skills, but more than that just people getting together to have fun and play the game."
Abel showcased his all-around game while hitting out of the seventh spot and playing center field. He went 1-for-2 with an RBI, a walk and a steal while playing eight of the nine total innings.
Abel's red team bombarded the blue team's pitching all night, notching a 10-6 victory. It may not be kept in any record books, but don't try to tell Abel that getting the
win didn't matter.
"Being a competitor, you always want to win at everything," Abel said. "We might have said that it doesn't matter if we win or lose, but we definitely wanted to win. It felt good to fulfill that desire."
Abel still has the rest of the season to help the Raiders in their attempt to win the state title, but after that he'll head to Northern Oklahoma College-Enid to continue his athletic career.
"It's unreal to think about never playing high school sports again," Abel said. "Right now I'm just trying to soak it in, stay around the area and cherish these last couple of months with the guys that I know."