Off to the races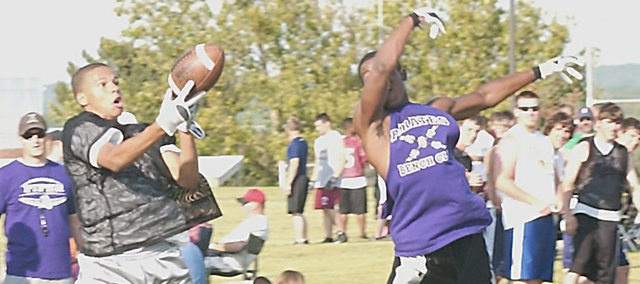 June results of 7-on-7 passing leagues may not be cause for concern in high school football. Most teams have attended a team camp - as Eudora did at Northwest Missouri State two weeks ago - and now are molding position players in the passing game through non-contact scrimmages. But the early season work could have a hand in building champions.
Eudora, for the last two Mondays, has participated in a De Soto-hosted 7-on-7 passing league as part of this early-season process.
The results have been mixed. Eudora sports a record of 1-2-1, and question marks have surfaced all over the field.
"We found out at camp that every position is wide open," coach Gregg Webb said.
That isn't 100 percent true, as he said tailback, two offensive line positions and some of the linebacker spots are secure. But other than those positions, as of right now starters might as well come down to a flip of the coin.
Nowhere on the field in 7-on-7 scrimmages has that been more evident than in the battle going on for the starting quarterback job.
Ben Katzenmeier, Drew Noble and Evan Cleveland all appear to be in a dead-even race to start under center.
"There is not a frontrunner," Webb said. "Drew Noble went to camp with us and had a good camp. Evan Cleveland is in the mix. And then Ben Katzenmeier is throwing
for us."
It was Katzenmeier who opened the scrimmage Monday against Piper, completing his first pass but eventually throwing an interception on fourth down when there was route confusion between quarterback and receiver.
The defense held on the ensuing possession and Noble took his turn, unsuccessfully completing passes on his first three attempts before finding Cleveland who was stopped - by way of one-hand touch - just short of a first down.
Piper scored on its next possession, gaining a 1-0
advantage.
The play of the game, though, may have been Zach Taylor's interception on Piper's next possession. Playing safety, Taylor jumped a route and made a diving, acrobatic catch around the 15-yard line to give Eudora another shot at scoring as time was winding down.
Noble found Christian Richardson down the sideline on a fly route shortly thereafter, and that's where the score stood when time expired.
Noble opened up the second game against Baldwin in style, throwing a bomb this time to Brian Dudley for a 1-0 lead. Baldwin drove down to the end zone before William Gadberry broke up a pass on fourth down and restored possession to Eudora.
Katzenmeier hit Caleb Clayton-Molby on fourth down of the first series, and Molby made it down to the 1-yard line before being tagged.
Eudora couldn't capitalize from the one, though, and Baldwin came back after the stand with two scores, beating the Cardinals, 3-1.
"We knew they'd probably make a play, but if you get up two scores in those types of situations you're going to end up winning," Webb said. "If we'd just have stuck it in when we're on the 1-yard line we'd probably have ended up going ahead and winning that second game.
"But, those are the plays we've got to figure our how to make."
Despite losing Monday, Cleveland liked the direction and progress his team is making.
"Coming in we had a lot of young guys that don't have a lot of experience. Camp was tough, but in 7-on-7 our defense has actually been playing pretty well," he said. "Our defense is going to need a lot of work based on how we did in camp. We're going to have a lot of young guys have to step up."
The previous Monday, in the opening week of the passing league, the Cardinals fell to Gardner Edgerton, 3-2, and then blew De Soto out by a score of 5-2.