USD

491 hires director of curriculum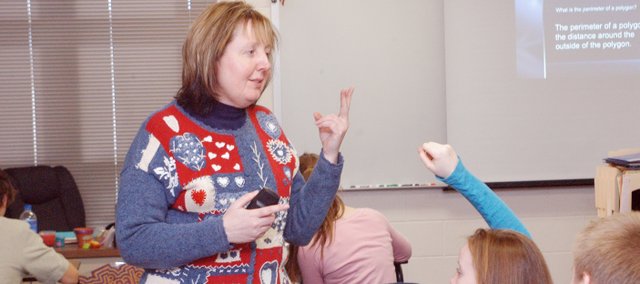 Eudora USD 491 has once again looked within to fill an important administrative post.
Marla Johnson has been named the district's interim director of curriculum and instruction. Just a few months ago, Johnson was named Eudora Middle School teacher of the year. She has been teaching math at EMS for the last nine years, and she has 20 years of teaching experience.
Johnson just completed a master's degree in technology instruction and implementation from Grand Canyon University and was the chairperson of the school improvement team at EMS for the last seven years.
She has participated in the Curriculum Coordinating Council, the Professional Development Council and the Subject Area Committee for math.
Her duties will include curriculum development, professional development and helping to coordinate state assessments.
"Marla brings a lot of experience from the curriculum standpoint from within our system," Interim Superintendent of Schools Don Grosdidier said. "She's well respected by the staff and she's been a teacher that has very high expectations for students, and I see that carrying over."
Johnson will fill the position left open when Grosdidier was promoted after current Superintendent Marty Kobza announced in late April he was leaving the district.
"We're very excited for Marla that she's using education that she's received to help further our district," EMS Principal Richard Proffitt said.
"She's been recognized by administration and the faculty because of her work ethic and her organization."
Those are just two of the qualities that Proffitt and the staff at EMS will miss. But the principal takes some comfort in knowing she still will be there to mentor new teachers.
"You don't necessarily replace a Marla Johnson," Proffitt said. "You look for the best candidates you can find and put them into those positions and try to help them grow so that they can attain the level that Ms. Johnson has attained already. Knowing that she's going to be a resource for new people coming in, we'll be able to get some advice and help from her; it's a win-win situation."
Proffitt also said her new responsibilities would not be much of a stretch for Johnson.
"One of the things that people who work in the schools already knew about Marla is that she was already an incredible source of information and help," he said. "A lot of the duties that she's going to take over now, she was already dispensing that advice and providing leadership in those areas."
The district was not satisfied with initial interviews for the position so they began to heavily solicit applicants from within the school district. Johnson was one of the latter applicants.
"They were all very qualified applicants, and it was a really difficult choice," Grosdidier said. "But Marla's level of experience and her ability to work with other teachers and her 'get it done' kind of attitude is something we thought was really needed here. I think it's a really good fit and it's a position that I think she's going to thrive in."
Johnson, who will formally begin her new position on July 21, said she looks forward to trying something new.
"I thought it would be a good opportunity to try something different in the field of education because I've been teaching quite a number of years now," she said. "It will be really nice to help teachers and help improve the instructional methods used by the teachers in this district."
Although she looked forward to a new challenge, Johnson said she would miss working directly with students. However, she said her new duties would help her see the big picture and understand where she fit into the curriculum, should she return to the teaching.
"There are mixed feelings there because I love being in a classroom and working with the students, but sometimes you just need to take a step back," Johnson said. "And in the long run, if I actually go back into the classroom, this will be a big benefit for me because I'll be able to look at a kindergarten through 12 curriculum and kind of refresh and remember what it's like to be in those primary and intermediate classrooms, as well as middle school and high school."
And though she said it would be odd to not be going back to school with the students in August, she planned on spending time in the schools to get to know all of the teachers.
"I'm hoping to be out in the buildings as much as possible, visiting with teachers and getting to see what goes one in other buildings," she said. "I'm sure I'll see students around that I've taught and have a chance to talk with them.
"But it will be a bittersweet moment when the kids walk in the doors."
The school board will make a decision next year whether or not to renew her contract for the position. Johnson is happy with the arrangement because it gives both parties time to decide if it is a mutually beneficial relationship.
"It's early to know, but that's why this is such a great opportunity," Johnson said. "But I have the year to figure it out and the district can see if I'm a good fit, also. Yes, I may be back in a classroom, and that's okay because I love the classroom."