Off the mark
Loss to Bobcats eliminates Cardinals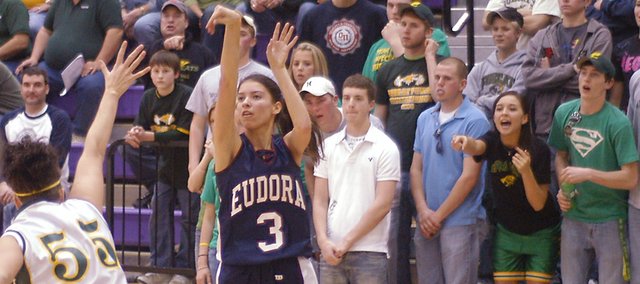 This wasn't how the Eudora Cardinals envisioned their season ending. All year long, they looked to the sub-state title as the ultimate measuring stick and in the end didn't measure up.
The girls basketball team's season came to an end Saturday at the hands of now 22-1 Basehor-Linwood, one win shy of its goal.
"We had a great season," senior Emily Ballock said. "We ended up 19-4, by far the best season I've ever had since I've been here. I'm not disappointed in our team at all."
Basehor used what proved to be a decisive second-quarter run and expanded that lead throughout the second half to knock the Cardinals out of the postseason by a score of 62-44.
Senior Nikki Snider led Eudora in scoring with 12 points, and Ballock added 10. For Basehor, seniors Cassie Combardino and Ashley Jeannin led the way with 20 and 14, respectively.
The Bobcats jumped out to a 9-3 early first quarter lead before Eudora erased that deficit with a 9-0 run of its own. Junior Bailey Scott had four points and a steal during that stretch, and Eudora led 12-11 after the first.
But trailing 19-17 with five minutes to go before halftime, the game began to slip away for Eudora.
Basehor post player Combardino scored seven points in the second quarter, as the Bobcats scored nine unanswered points and gained a 28-17 advantage going into the half.
"She's a good player," coach Ryan Luke said. "We didn't put enough pressure on the perimeter, but she made some tough shots. We played pretty good defense on her a few times, and she made big plays. Good players do that."
Eudora went into the locker room at halftime and couldn't devise a game plan to stop Combardino. Another thing the Cardinals couldn't stop was the ease with which Basehor broke the full-court press that tormented opponents for much of the season.
The Bobcats consistently got the ball to the middle of the floor and then pushed it ahead for easy baskets.
"All you have to do is have someone who can dribble," Luke said. "Basehor has one or two good ball handlers, and that makes it tough on you. Our bread and butter is our full-court, man, run-and-jump. They were able to break that press.
Combardino was the beneficiary of Basehor's press-breaking ability and scored 11 of the Bobcats' 13 points in the third quarter. Eudora trailed 41-27 after three quarters of play.
Snider got going offensively in the fourth quarter, but it wasn't enough. She hit five of seven free throws and had nine points in the fourth, but every time Eudora hit a shot in the early part of the period, Basehor answered with a basket. And when it came time to foul and conserve time, the Bobcats made their free throws.
Senior Michelle Chrisman hit six of eight from the foul line, and Basehor convincingly advanced into the state tournament.
"I think they have a good chance (in the state tournament)," Luke said. "They've proven they can beat good teams. They've beaten top-10 teams all year long, so I think they have a great shot. If they continue to shoot as well as they did tonight, they have a great chance."
One of the differences in the game was just that - shooting. Eudora struggled to hit from the perimeter when Basehor packed bodies down in the post to cover Snider and junior Haley Epperson.
Basehor coach Noah Simpson thought that was because of Basehor's defensive play rather than just an off night for the Cardinals.
"They're a very good shooting team, and we did a pretty good job of covering their shooters. We knew we needed to cover up number 2 (senior Elaina Kouri) and 3 (Scott) because they are the predominant outside shooters. Some of it - they may have been off a little bit - but a lot of it was the way our girls played defense."
Ballock thought Eudora's struggles had more to do with just having one of those nights. She cited as evidence all the open looks the Cardinals got.
"It was more they just weren't falling," Ballock said. "I was getting some open shots, and Bailey was getting some open shots and Rachel. We had a good look at it, but we just didn't knock them down and it killed our momentum a little bit."
Luke said this is one area in which Eudora will work on next year.
"The 2-3 zone is tough on us," he said. "It makes us try to shoot from the outside and that's something we need to develop. We have some good outside shooters, but I don't know how confident we were to shoot those shots."
Eudora advanced into the championship game by way of a 50-42 win over Spring Hill in the second round.
Eudora led 33-30 after three quarters but put the game out of reach in the fourth quarter thanks in large part to the free throw shooting of Ballock when Spring Hill was forced to foul. Ballock was seven of eight from the line in the fourth and scored a game-high 21 points to lead Eudora.
Basehor is seeded fourth at state and will face Holton (22-1) Wednesday in Salina.