Trio of sophomore guards leads Eudora into future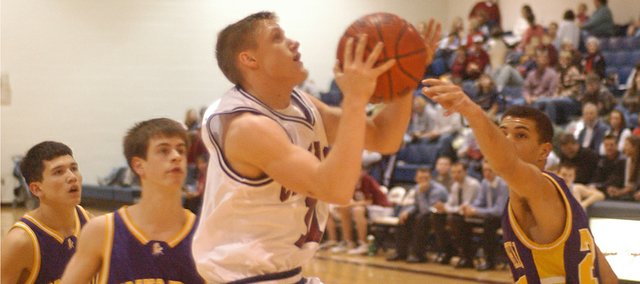 It was a scene that played out before most boys basketball games this season. The upperclassmen would do a defensive drill in warm-ups that culminated with the players diving for a loose ball. Then the underclassmen would follow, doing the same drill and jogging off the court.
The last three kids to disappear into the locker room hallway often were sophomore guards Brian Katzfey and Justin Ballock, with Evan Cleveland bringing up the rear.
They may have been last going into the locker room before games, but for the next two years they'll be at the forefront of the team's identity.
"We kind of feel like we're a big part of the future of it," Ballock said. "We're going to try to be the leaders of the team the next couple of years."
Ballock knew he'd be thrown into the fire as a sophomore. He played some minutes as a freshman and knew, especially without the top eight scorers from the 2006-2007 team, he'd be depended on to score.
Ballock responded by leading the team in scoring with 14.2 points per game and collecting 4.8 rebounds per game, second best behind senior Dylan Rust. Ballock also was tied for the team lead in steals per game with one-and-a-half.
He had particularly good nights in victories against Paola, scoring 21, and against Anderson County when he scored 24. It seemed that in most games of the season, the offense went as Ballock went. If he was making shots, other players got involved and scored a lot easier.
With next year's squad comparatively deep at the guard position, coach Kyle Deterding looks for Ballock to possibly contribute in the post as well as from the perimeter, assuming one thing happens.
"He could be a tough matchup if he gets strong enough," Deterding said. "If he's got a guard guarding him he could get to where he could post up and take advantage of some mismatches. That would take some physical strength on his part."
Strength is one area that no one, neither the players nor the coach, disputes needing to improve.
"Physical strength is a big thing with younger kids a lot of the time," Deterding said. "All three could use the weight room, but along with that they need to play a lot of basketball and improve some physical skills in the offseason. That'll make next year go a lot smoother."
Katzfey said as far as actual basketball skills go, he needed to put the most work into improving his shot and his defense.
For Cleveland, areas to be improved were his overall offensive game and ability to run the team as the starting point guard.
Cleveland led the Cardinals in assists this year with three dimes per game.
"Us three played a big role this year, and it's just going to get bigger," Cleveland said. "We all had big responsibilities, and I felt we dealt with them pretty well. Our ability is only going to get better. So, I think we have a pretty big role in it (the near future of the program)."
But the success of the program hinges on more than just these three sophomore guards. Cody Carlson looks to be the main man in the post next year after coming in third in scoring as a junior with five points per game. Who the other post player will be remains to be seen, although Deterding mentioned Michael Bricker and Joel Lauer as possibilities.
Also at the guard position, junior Kyle Swanson was arguably Eudora's best option from behind the three-point line and started most of the year in the backcourt.
But within the next two years, this group of three guards could attain a state berth and, perhaps, beyond.
"All three of them really like to play basketball," Deterding said. "And all three do have a chance to be pretty good players if they get to work in the offseason."
That's the plan according to Ballock.
"We're going to get a team together over the summer and get into some tournaments and get a little more work," he said. "We're going to have to get a lot better this year - a lot."